5 Beautiful and Unique National Parks To Visit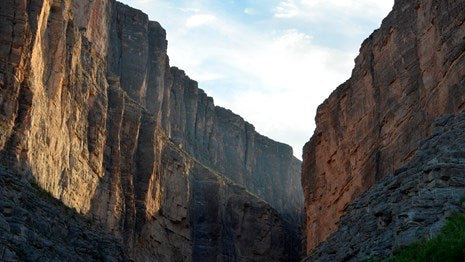 As summer ends and a new season nears, it's a great time for families to get out there and explore the beauty of nature. Of course your probably know all about Yellowstone and Yosemite, but the places that are just a bit lesser known are also truly incredible. Your Little Roseberry crew has made a list of five of our favorite locations to visit when it comes to exploring the great outdoors! 
- Big Bend National Park, West Texas 
Ancient limestone canyons, flowing rivers, hundreds of bird species and some of the most incredible sunsets you've ever seen make up the beauty that is Big Bend. Sea fossils, dinosaur bones and volcanic bones are all local to this fascinating area. It's a definite bucket-list item to add to your hiking adventures. Note - If you're in the area after a day of exploring, make sure to have a sunset soak at Langford Hot Springs. 
- Mesa Verde National Park, Colorado 
At this national park, you and the family can adventure through 5,000 known archeological sites and 600 cliff dwellings. As if that isn't impressive enough, 150 of those cliff dwellings have up tp 150 rooms! Ancestral Puebloans once created an advanced lifestyle at the only national park created to "preserve the works of man." Take a tour, go hiking or even snowshoeing during your visit. No matter what you do, you will be stepping into history with a visit to this enthralling site. 
Biscayne National Park, Florida
Known as a watery wonderland, this is a national park with four marine ecosystems - mangrove forest, The Bays, The Keys and the coral reefs, to be exact. Fun fact? The Maritime Heritage Field is the only underwater archeological trail in the National Park System. Make time to snorkel, boat and fish when visiting these stunning islands, waters and reefs. Also see if you can spot wildlife like crocs, dolphins, sea turtles and the peregrine falcon during your time here!
Mammoth Cave National Park, Kentucky 
This is the world's largest cave system, with a total of 400 miles mapped underground. You'll see 300 million old fossils, ginormous cave formations, and artifacts that have been impeccably preserved from thousands of years ago. When you're done exploring the caves consider walking, biking or riding horseback through 70 miles of forested miles. If you're ready for even more fun after that, go ahead and swim, boat or fish the Green River that runs through the caves. The wonder never stops at Mammoth Cave! 
Hot Springs National Park, Arkansas  
Visit these natural hot springs that have enchanted tourists for hundreds and hundreds of years. This attraction was so loved that a town was created around these springs in 1800s, and now it is the smallest national park in the US. It's also the only one that exists in an urban area. You can explore the public baths while also walking 26 miles of trails, hiking, camping or just meandering through the beautiful mountain area. 
These national parks are an adventurous and unforgettable reason to escape out into nature. Your humans will love every second of the journey spent with those they love the best.