HOW TO GET THE MOST OUT OF BLACK FRIDAY AND CYBER MONDAY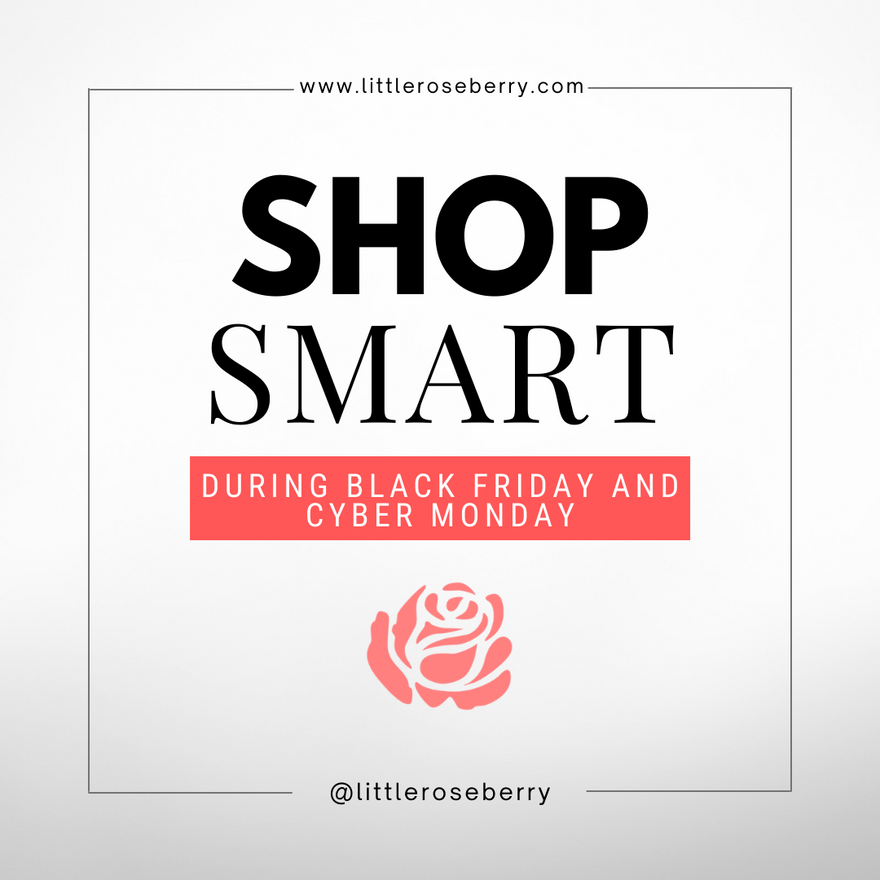 If you still don't know what to buy for Christmas, Black Friday and Cyber Monday are unbeatable opportunities. Sure, as long as you know how to take advantage of all the available options. Because it is not about buying the first product you see on sale, we have a few tips for you to take advantage of the offers on Black Friday and Cyber Monday.
First of all, when is it that we should take advantage of such sales? Black Friday is the day after Thanksgiving and Cyber Monday is the following Monday. Online stores and merchants plan promotions and sales in order to be prepared with significant offers to sell to eager customers looking for significant savings.
In 2021, Black Friday will take place on the weekend of Friday, November 26, and will be followed by Cyber Monday, on November 29. Some companies, like Little Roseberry, hold great sales throughout the whole weekend! Make sure to read until the end to find out more!
If you plan on buying something on these two dates, these are some recommendations to make "smart purchases", that is, take advantage of the offers without compromising your economy.
Avoid impulse buying and make a list of what you really need. 
Although there will be irresistible offers, if you don't need an item, don't buy it. In the end, those unnecessary things will end up in some corner collecting dust and you'll be left wondering why you made that purchase in the first place.
Set up  a budget. 
It's so easy to overspend and run out of your budget in an instant. To avoid this, set aside a specific amount for your purchases and stick to that limit.
Compare prices and products. 
A great advantage of buying online is that, with a few clicks, you can compare the quality of various products and brands, as well as their prices in different stores, in order to choose the best option between cost and benefit.
Review the purchase conditions. 
Check the shipping costs and delivery times; Look at the policies and terms of exchange or return, and take into account the guarantees offered by the products that are interesting to you.
Choose your payment method.
Cash or credit? To decide, think about the shelf life of those things you're planning to buy. All that stuff that is out of use in a relatively short time, it's better to pay in cash. While those that are more durable and expensive goods, such as electronics and appliances, it may be more convenient to pay in installments.
Take into account your ability to pay. 
While credit is convenient, it can also be a risk. Check your payment capacity well to know how much you can pay on credit in a timely manner.
So there you have it, a few of our tips to make the best of your shopping spree this Black Friday and Cyber Monday. Now, let's talk about what we all know you're really here for: our Little Roseberry Super Sale! 
Like we mentioned previously, we will have great deals starting Black Friday all through Cyber Monday.  Today you can enjoy 25% off our complete Little Roseberry Line! On our website, make sure to use promo code BONANZA, while on Amazon all you have to do is apply the coupon we have for you. Make sure to stock up on your favorite Hair Care products for the Holiday season!
Happy Parenting!