Healthy, strong and shiny hair: How we should care for and treat children's hair.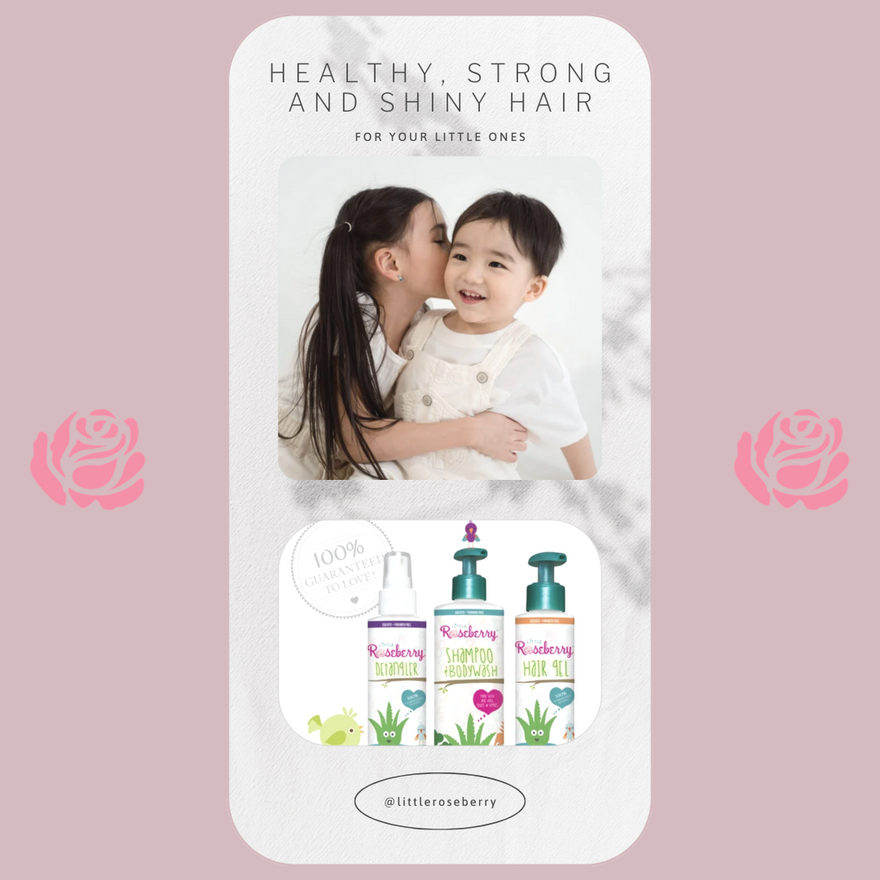 As parents, we often have to walk the fine line between advocating for our kids' opinions and making sure they are decent-looking. When your little one insists on wanting long hair but you're not so confident about how it will grow out - don't worry! There's always a solution that might work best with their personality (and yours).
Allowing them to wear their hair as they want will give them self-confidence, and as long as it does not pose a real problem we will have to understand that experimenting with their image is part of their personality development and autonomy. And if it overwhelms you to think about it, let us say something, hair is only that: hair! It will grow back, you can cut it, dye it and no change will be permanent. In any case, today we focus on how we can take care of our children's hair so that it grows strong and healthy.
A child's hair should never be washed with any type of harsh shampoo because it can cause damage. In order to keep your kid's locks healthy and strong, we recommend using a gentle product that does not strip the natural oils from their scalp like many other brands do; our Little Roseberry Baby Shampoo + Body Wash will give you both shine and cleanliness without giving them dryness or harming the scalp. Our gentle formulas are packed with vitamins to protect sensitive skin and delicate scalps. It is made with organic aloe vera juice, fruit and veggies to promote hair wellbeing.
Something that should also be used and helps tremendously when caring for children's hair is the importance of applying a conditioner after shampooing, as it helps to make it easier to detangle and do it without pain and hassles. Our 2 in 1 Formula Hair detangler & Leave-in Conditioner is a great option to keep your kiddos' hair healthy and nourished. Enriched with antioxidants, vitamins and minerals such as calcium, folic acid or amino acids which repair dry damaged locks, our product will leave you feeling relieved of any tangles once they use this nifty formula!
There's no need to make it complicated with masks or other specific products: a well-formulated shampoo and moisturizing conditioner to avoid detangling will increase the softness and nutrition of your hair. Also, we recommend that we emphasize drying hair for both girls and boys, and do not let them go to bed with wet hair.
We must teach children that wet or damp hair should not be styled into ponytails, buns and braids because it will damage their precious locks. If we can avoid this from happening as early on in life for our kids then the habit is much easier to maintain over time which leads them to have healthier heads full of strong strands rather than knots!
Talking about styling the hair, it is very important that the products we use for our children have a gentle formula packed with vitamins to protect delicate hair. We should aim for 100% toxin-free - with no fragrance, no parabens, and no sulfates. A great option is our Little Roseberry Hair Gel, which is made with organic aloe vera juice, instead of diluted with water. 
You can find all of our Little Roseberry Products on our website as well as Amazon. If this will be your first time trying our products, please reach out to us via our facebook or instagram to get a promo code for your first purchase! 

So there you have it, nothing out of the ordinary when it comes to taking care of the little ones' manes. Always have in mind using shampoo specially made for children, conditioner and not going to bed with wet hair. Wash it every other two days and your little ones will have enviable hair.
Happy Parenting!