Celebrate Hispanic Heritage Month by Doing this!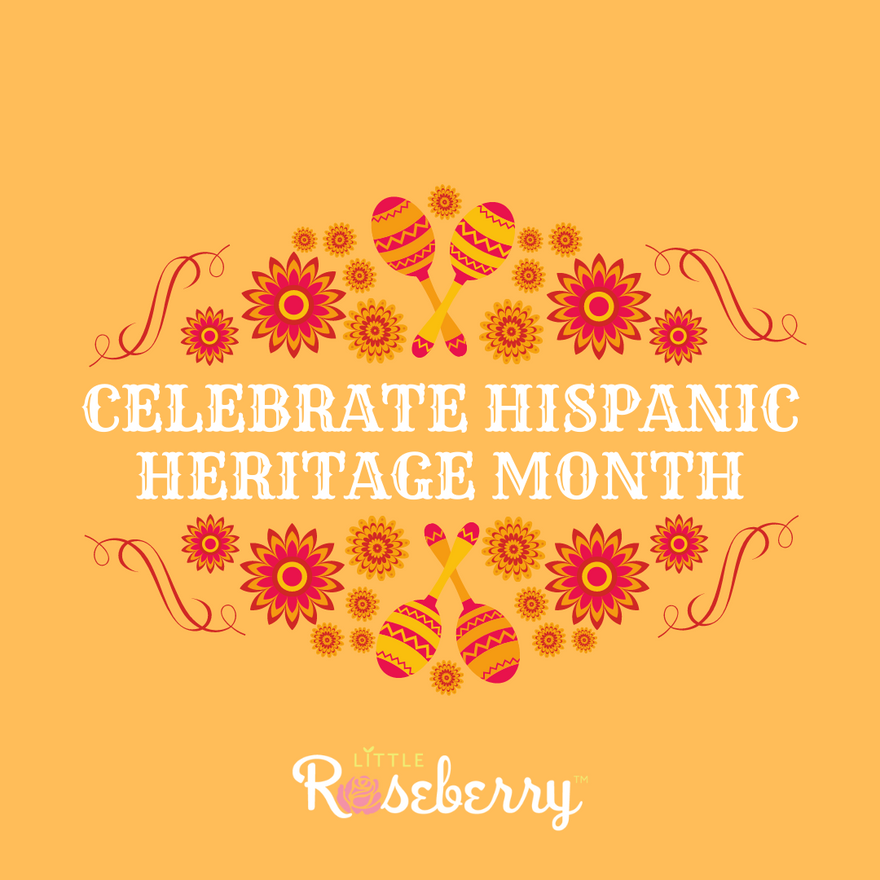 Hispanic Heritage Month is a month-long celebration of the culture and traditions for Hispanic Americans. This year it's happening from September 15th to October 15th.  There are many ways you can celebrate the rich contributions of those from Latin America. Little Roseberry is proudly a Latina owned company, and we're all up for anything celebratory and party related. We have compiled a list of ways you can honor the Hispanic heritage this month. So grab some friends, family or kids and get the fiesta started!
SUPPORT LANIX OWNED COMPANIES
Latinx owned businesses are a huge part of the American economy. There were over 1 million Latinx owned companies in the US last year, and they employ more than 5 million people! That's a lot of families making livable wages. In addition to supporting these small business owners who are often our friends, neighbors or family members with their livelihoods, we also get to enjoy unique products from all around the world made by artisans who have been crafting them for centuries. Not only can you help support your local Latinx owned business this month but you can also find great deals. 
In Little Roseberry we appreciate your love and support and want to celebrate by offering you a 20% discount on our Two Packs for our Natural Hair Gel and Detangler! During Hispanic Heritage month you'll be able to use the promo code HH20.  It will be valid from September 15 - October 15, so please share with those you care about the most! 
Also, please make sure to share with us what other Latinx owned businesses you love to support! We'd love to share and spread the word about these companies (:
READ A BOOK BY A HISPANIC AUTHOR
If you're looking to enrich your child's education or just want a great book for yourself, consider reading a book by a Hispanic author. You'll not only be introduced to an amazing world of literature, but also get the chance to learn about their culture and heritage. Your kids will love it!  
For mom and dad look for something by Isabel Allende, Gabriel García Márquez, Mario Vargas Llosa, Julio Cortázar or Erika L. Sánchez. Their stories will captivate you and show you a side on Latin American culture you might be missing out on. Some authors for kids books your little ones might enjoy are Pam Muñoz Ryan, Margarita Engle, Matt De La Peña, Marjorie Agosin and Juan Felipe Herrera. Hope you enjoy these recommendations for books to read with your children or even yourself! 
TRY SOME DELISH HISPANIC INSPIRED RECIPES
Latin American food is delicious, vibrant and full of flavor! As a Latina myself, I always enjoy cooking my native dishes for family gatherings. Before you start cooking, it's important to know what ingredients are needed and how to prepare them. Latin American food is not only delicious but also healthy! You don't have to be a professional chef to make your family's favorite dish! Some popular ones you might want to try are  tamales (Little Roseberry's own all time favorite), pupusas, or empanadas. The fun part? Almost every Latin American country has their own version of these! So choose the one you'll like to try first and let us know how it went.
ATTEND A LATINO FESTIVAL IN YOUR AREA
Growing up in a Hispanic family, one of my favorite days was when we would all get together to celebrate our culture through food and music. I remember the smell of fresh tortillas cooking on the grill, tamales steaming away in their husks, and the sound of maracas keeping time with salsa rhythms. Celebrating these traditions is important because it not only strengthens bonds within families but also fosters strong relationships with other Hispanics in your community. That's why attending different Hispanic festivals is an experience you don't want to miss out on!
Hispanic culture is rich and diverse, and Hispanic Heritage Month is a great time to celebrate it. Visit your local Hispanic Festival and get an idea of the different cultural traditions that make up this rich heritage. Find out about hispanic food, see traditional dance performances, listen to Spanish language music - there's so much more than just tacos!  
Hispanic Heritage Month is a celebration of all things Hispanic. As the largest minority group in the United States, it's important to not only celebrate our culture but also acknowledge how we have contributed to this country. We hope this blog helps you find a way to celebrate and get immersed in the richness of Hispanic Heritage.
¡Feliz Parenting!