Experience Luxury and Elegance at the Omni Hotel in Downtown Dallas, Texas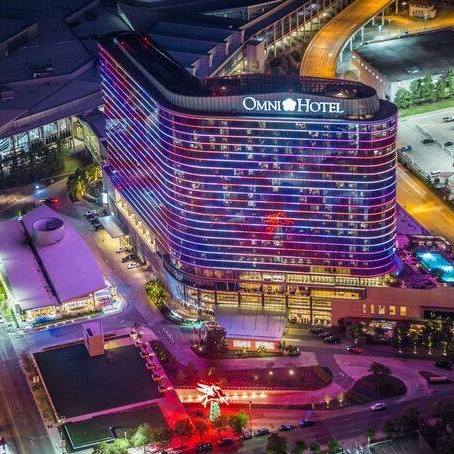 Nestled in the heart of downtown Dallas, the Omni Hotel stands tall as an iconic landmark, epitomizing the city's vibrant energy and timeless elegance. With its luxurious accommodations, impeccable service, and prime location, the Omni Hotel offers an unforgettable experience for both business and leisure travelers. Whether you're visiting Dallas for business, exploring its cultural attractions, or simply seeking a luxurious retreat, the Omni Hotel is the perfect destination to indulge in unparalleled comfort and hospitality.
Luxurious Accommodations: From the moment you step into the Omni Hotel, you'll be immersed in a world of refined luxury. The hotel boasts an impressive collection of well-appointed rooms and suites, each designed with sophisticated décor and modern amenities. The plush bedding, spacious layouts, and breathtaking views of the Dallas skyline create an ambiance of tranquility and relaxation, providing a welcome retreat from the bustling city outside.
Impeccable Dining: The Omni Hotel offers a diverse range of dining options that cater to every palate. Start your day with a delectable breakfast at Texas Spice, where locally sourced ingredients are transformed into mouthwatering dishes that showcase the flavors of Texas. For a more intimate setting, visit Bob's Steak & Chop House, an iconic steakhouse renowned for its perfectly aged prime cuts and impeccable service. Whether you're in the mood for a casual lunch, a romantic dinner, or a nightcap at the rooftop pool bar, the Omni Hotel ensures a culinary experience that exceeds expectations.
Unparalleled Amenities: The Omni Hotel is synonymous with exceptional service and thoughtful amenities. Stay fit and rejuvenated at the fully equipped fitness center and the rooftop infinity pool, offering stunning panoramic views of the city. For a pampering experience, indulge in a spa treatment at Mokara Spa, where skilled therapists provide an array of rejuvenating treatments designed to restore balance and enhance well-being.
Prime Location: One of the most enticing aspects of the Omni Hotel is its prime location in downtown Dallas. Situated within close proximity to popular attractions, including the Dallas Arts District, the West End Historic District, and the vibrant nightlife of Deep Ellum, the hotel serves as an ideal starting point for exploring the city's cultural, culinary, and entertainment offerings. Additionally, the Omni Hotel is conveniently located near major business centers, making it an excellent choice for business travelers.
Unforgettable Events and Meetings: With its versatile event spaces and state-of-the-art meeting facilities, the Omni Hotel is a preferred destination for hosting memorable events and successful business gatherings. The hotel's dedicated event planning team ensures that every detail is meticulously executed, from the layout and décor to the culinary offerings, ensuring a seamless and unforgettable experience for all attendees.
Conclusion: The Omni Hotel in downtown Dallas, Texas, is a beacon of luxury, sophistication, and impeccable hospitality. From its elegant accommodations and exceptional dining options to its prime location and world-class amenities, the hotel offers a truly memorable experience for every guest. Whether you're seeking a luxurious getaway, a productive business trip, or a destination for hosting a special event, the Omni Hotel sets the stage for an unforgettable stay in the vibrant city of Dallas. Plan your visit and prepare to be immersed in the pinnacle of luxury and elegance at the Omni Hotel.
https://www.facebook.com/OmniDallas/photos