CELEBRATE HALLOWEEN WITH THESE HEALTHY SNACKS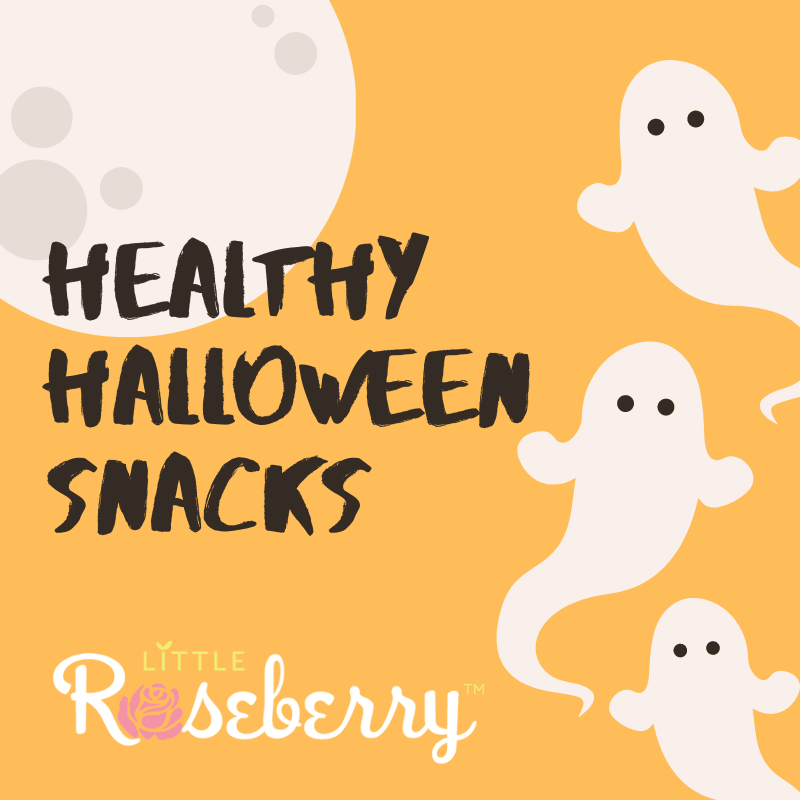 Quick, delish and very spooky snacks. And best of all, healthy! Prepare these yummy snacks to enjoy this Halloween 🎃 👻 
In Little Roseberry we like to go all out during this time of year. Halloween is a celebration that can be enjoyed by everyone in the family, when it finally gets here all we think about is costumes and candy, but if you're like us and like to take care of your health, watch what you eat and you are not at all into you and your kiddos getting a sugar rush after a full day of non-stop sugar, then these healthy snacks for Halloween are just for you.
Best of all, they can be done with the whole family, you can have fun while preparing them and they're super yummy. Also, make sure to read till the end, we have a promo code for you!
Spooky Apples


This will become a family favorite for sure. Due to their original presentation and combination of flavors, they are perfect for Halloween! This apple option is best for those who love a good crunch in every bite. Not only that, but you'll be happy to know that every bite is rich in fiber, will help you fill up faster and will take care of your heart and keep your sugar levels stable. So don't think twice about it. These spooky and delicious apples will be the sensation at your gathering, and we tell you how to make them.
Ingredients:
2 large granny smith apples (or your favorite kind)
4 oz peanut butter
5 strawberries
4 oz of peeled sunflower seeds
20 eye gummies
-Cut apples in quarters and remove the part in the middle. This will be the mouth.
-Cut the strawberries into slices, try to use the largest part for the tongue.
-Spread peanut butter on the inside of the apple mouth you just created, then place the strawberry slice.
-With the sunflower seeds you will simulate the teeth, so in the upper part of the mouth fit the seeds one by one, put as many as you like.
-Finally, place the gummies on the top. If you think they are too big, you can try using some chocolate chips some edible paint.
Eerie Mummies


As Halloween is a celebration for all ages, prepare these delicious mummies that will make you and those people that enjoy a little bit of spice go crazy, it's only for the bravest! But don't worry, we also tell you a spice-free alternative. If you do not like sweets so much or want to try something different this healthy snack is sure to be a great option, you and your guests will love it! Peppers contain many vitamins and minerals, antioxidants and strengthen the digestive system. And here we tell you how to prepare delicious mummies with a little bit of a kick.
Ingredients:
6 jalapeño peppers (or if you prefer, use sweet peppers, you know, the ones that look like jalapeños but come in red, orange and yellow)
9 oz of Oaxaca cheese or your favorite melting cheese
4 oz puff pastry
1 egg
-Cut each chili in half and remove the veins and seeds. This is the make it or break it point to your spiciness preference, since that is what makes a chili spicy, make sure to clean them thoroughly if you're worried about it being too much.
-Fill them with the Oaxaca or melting cheese you choose and reserve.
-Roll out the puff pastry and cut thin strips. Place them on top of the chili peppers, these will be the bandages for your mummies!
-Preheat the oven to 350º F. Meanwhile, glaze each chili with a little egg and bake them for 20 minutes, or until the puff pastry is golden brown.
-Once out of the oven, give them a couple of minutes to cool down and enjoy!
Boo Bananas

They are by far the easiest recipe but also very delicious, everyone will love them because the chocolate and banana combination never fails. If what you want is to save time on food to dedicate it to the costumes of the little ones, this healthy snack for Halloween is perfect. Bananas represent a great contribution of natural sugar, which is translated as energy for the body. In addition, its regular consumption increases the defenses of our heart, the digestive system and thanks to the potassium it contains, reduces anemia, blood pressure and fatigue. As you can see, bananas are perfect to include in our daily diet, but also for special occasions like Halloween.
Ingredients:
5 bananas
4 oz dark or milk chocolate melts
-In a container, place the dark/milk chocolate in pieces and put over medium heat in a bain-marie and stir consistently. You can also put it in the microwave and give it 10 seconds at a time until the chocolate is melted. 
-Once the chocolate is melted, put it in a piping bag. If you don't have one, you can use a clean plastic bag and cut one end of it.
-Peel the bananas and cut them in half. Put chocolate eyes and mouth on each half. If you prefer, you can make cuts to the bottom to make it look more ghostly. If you only cut them in half, they will stand up to look better.
We hope you found these healthy Halloween snacks for your family helpful. If so, let us know which ones are your favorite! Are there any other recipes or ideas that you would like to share with the rest of our readers? Please go to our facebook and instagram and tell us about them!
And don't think we forgot about that promo code we promised at the beginning of the blog. If you'd like to save 15% off on our Two Packs for Little Roseberry Hair Gel for Kids and Hair Detangler for Kids, use the code BOO15. Make sure you use it today, through October 31 and share with those you care about the most! 
Happy Parenting!