5 FUN ONLINE EASTER EVENTS TO DO WITH YOUR FAMILY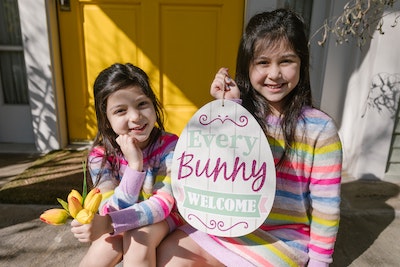 Easter is around the corner, and we can't help but get excited about it!  We know that some families are not ready to go out to their local parks or churches to attend the traditional Easter Egg Hunt, but what's Easter without some egg hunts? Little Roseberry made a list of 5 fun online Easter events to do with your family!  
Date And Time: Fri, Apr 2, 2021, 3:00 PM
                           Mon, Apr 5, 2021, 12:00 AM CDT
TICKETS: $0 – $25
If you have kids and they're into video games, you probably have heard of Roblox before.  So, this might be a great activity to do this Easter! We know how Little Roseberry kids love Roblox, trust us! We're all set for an epic Easter egg hunt, carnival rides, our spring dance which will also include a giant bunny hot-air balloon. If you RSVP then you can get your free ticket and exclusive in-game extras! So get ready for this four-day Eggstravaganza!
Date And Time: Sat, April 3, 2021
                           12:30 PM – 1:00 PM CDT
Free
Kids will get a chance to play mini activities in this Chinese-themed game of Egg Hunt! They'll use what they've learned from reading an Easter book and playing a Cantonese story time. The main goal will be to find ingredients (might even find the same healthy and nutritious ingredients we use on Little Roseberry Natural Hair Gel for Kids!) that can be used to make something yummy - no cooking required! There is some preparation required and spots are limited, so make sure to get ready and register ahead of time.
Date And Time: Sat, Apr 3, 2021
                           12:00 PM CDT
Free
We all know that Easter is this Sunday morning but what if you can't make it to the egg hunt? Well, don't worry! You still have a chance to win some eggs for your family and friends by attending this virtual-only Egg Hunt hosted by Roseville Park (don't forget: no need for an RSVP!). It's free too! This is their 2nd Virtual Easter Egg Hunt so they must know how to get the online party started.
Date And Time: Mon, April 5, 2021
                           5:00 PM – 6:00 PM CDT
Free
Easter Sunday is a day of celebration for many, but did you know that the White House officially celebrates on Monday with an event called The White House Easter Egg Roll? In 1878 this tradition was started by President Rutherford B. Hayes and it has continued to be celebrated ever since! Grab your egg filled wooden spoon and join the National First Ladies' Library for this fun hop through history at the white house.  Make sure to dress for the occasion!  We know our Little Roseberry Natural Detangler for Kids will help you and your family look your best. 
Date And Time: Tue, April 6, 2021
                           7:30 PM – 9:00 PM CDT
Free
This Online Scavenger Hunt hosted by the Graphic Artists Guild is inviting everyone, members and non-menmbers, to join in the fun in this free event that will challenge everyone to find some "Easter eggs" on the web.  They'll have prizes and lots of fun guaranteed! The Little Roseberry fam can't wait to enjoy and have lots of fun! Make sure to log in next Tuesday.
Join in the fun in either one of these online events!  Check on your local listings since there's a lot going on for this year's Easter celebration.  And don't forget to look your finest for Easter pics and know that our Natural Hair Products for Kids like Little Roseberry's Hair Gel and Detangler will keep your child's style on point! 
And just because we're feeling festive, use CODE: BUNNY15 to get 15% off any of our products! Make sure to use from today until Easter Sunday! Share your Easter celebrations with us and comment on our socials what you have in mind for this upcoming weekend.
Happy Parenting!