5 THINGS YOU CAN DECLUTTER ON #NationalGiveSomethingAwayDay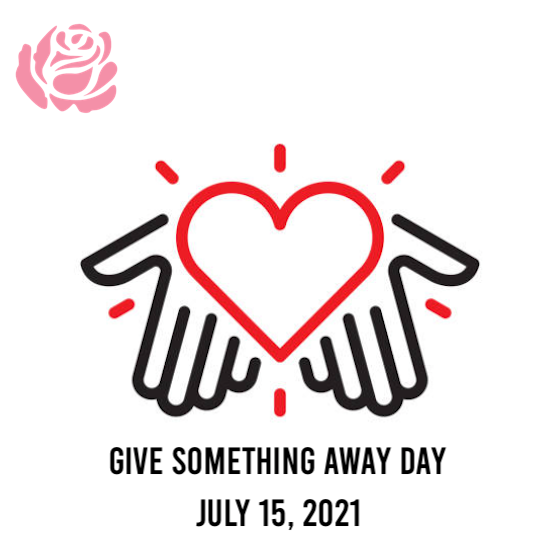 TODAY IS A GREAT DAY TO GIVE!
Giving is fun and easy. It's better to give than receive, as the saying goes. The National Give Something Away Day aims to make giving a habit that helps people feel good about themselves while fulfilling their need for connection with others by sharing what they treasure most- even if it's just something from around the house or an old sweater no one else wants anymore.
Linda Eaton Hall-Fulcher, a self proclaimed giver came up with the idea of National Give Something Away Day. She wanted to encourage everyone who cares about giving back (at Little Roseberry, we're all up for this idea!) and is committed to doing so on July 15th every year by promoting this day as an opportunity to give away something you no longer need.
In Little Roseberry we feel like giving is a selfless act but it benefits both parties involved. When you give to someone else, they'll get happiness and good feelings from receiving your gift because of the kindness behind it. But on top of that, giving also helps us by letting go of things we don't need any more or are just lying around our house taking up space. We learn how grateful we should be for all our blessings in life which makes us feel like responsible people who care about their community too.
So how to make the best out of this day?  Little Roseberry has a few ideas that might work for you. Check out this list!
Give away clothing you haven't worn in a while or are just not into anymore. If you know someone who might give it good use and a new life, what are you waiting for? Also, old towels, blankets and bed sheets can come in handy for animal shelters.

Extra kitchen supplies are not hard to find around your home. Some food banks and public food pantries could give it good use since they tend to prepare large meals for the community. You might want to also check with local churches since they also make meals for those in need.

We love to get stocked up on our favorite foods, especially those not perishable ones that we can get in bulk. For that reason we tend to over-stock, so take a good look around your pantry. 

Books are always welcome in libraries or schools. Also places like goodwill and salvation army take them!

Arts & crafts supplies are also useful to schools and community centers like the YMCA, where they have children programs.
So don't forget to take part on this #NationalGiveSomethingAwayDay because giving is contagious! It's such a great thing to do for you and for others. Although it seems that the one that benefits the most from it is the one receiving, the truth is that when you give there's a special feeling that overcomes you that no other activity can bring out in you.
Us in Little Roseberry are big fans of paying it forward and giving back, so don't miss out on our Amazon store and all the coupons we have available for you! Also, you can use the promo code GIVE15 on www.littleroseberry.com to get !5% off your purchase! Thank you so much for your support.
Happy Parenting!