5 Ways to Celebrate St. Patrick's Day in 2021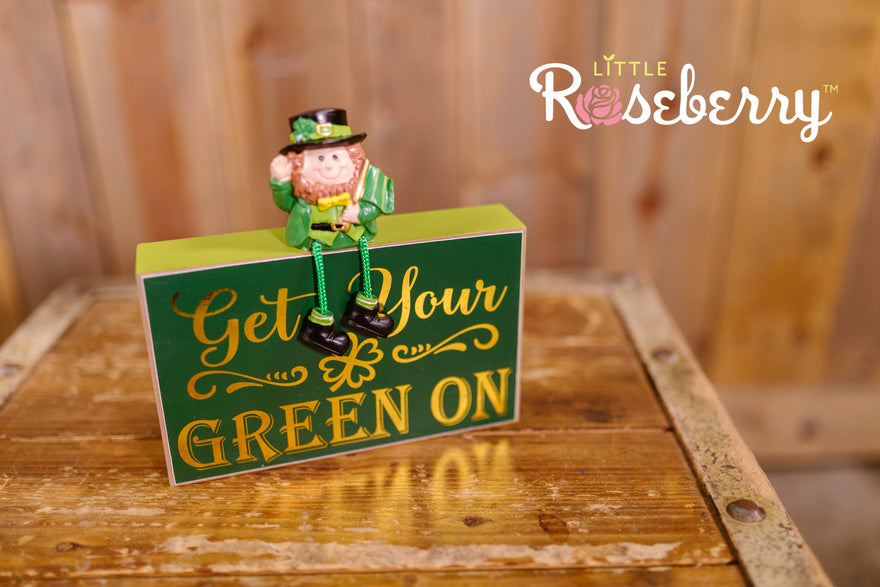 We've been thinking about St. Patrick's Day... and what a great opportunity it is to learn more about the culture of Ireland, especially when you have kids! There are so many ways that families can celebrate the Irish heritage this year and we've got some ideas for celebrating all day long :)  First off, how did this holiday come about?  We're all about celebrations in Little Roseberry, and if you enjoy holidays as much as we do, here we'll give you a list of things people do to celebrate St. Patty's. 
St Patrick's Day is celebrated all over the world, but what do you really know about him? He was a patron saint of Ireland, and his feast day was important in Ireland's culture.  You know, what better way to celebrate than with a little Shamrock magic? In Ireland people wear a small bunch of Shamrocks on the right side of their clothing. The Shamrocks are blessed in ceremonies all over Ireland by either the local priests or bishops. This is known as the Blessing of the Shamrock which is believed to be good luck for those who receive it! It has been said that this tradition dates back to Pagan times when shamrocks were used in rituals for divination. Whether you're wearing them today, tomorrow, or just want some extra luck-we've got your back covered.
Now, if what you'd like to do is involve your kids in the festivities, here we tell you 5 ways to spend St. Patrick's Day with your family:
1.  Go green all the way!
This tradition is a reminder of the Emerald Isle and how they want us to wear green on St. Paddy's Day so we don't get pinched by a leprechaun! We agree that wearing green is fun but you can also eat just green foods!  Can't think of a better way to incentivize your kiddos to eat healthy (at least for this particular day).  From the nutritious broccoli to brussel sprouts, spinach and kale, to pistachios, grapes, apples and honey dew melon.  We're sure there might be something there your kids will enjoy.
You can also challenge your little one to make drawings only using greens.  from forest green to sea green, lime and spring green.  Create masterpieces full of green explosions!  Now, what about a fun and crazy hair-do? You can use our Little Roseberry Natural Hair Gel for Kids and add either some green chalk dust or natural  green food coloring and turn those braids or spiky hair style into a green sensation!  The sky's the limit, think green all the way!
2.  Make some rainbows
Now, can we even call it a St. Patrick's day if there's no rainbow involved?  We all want that pot of gold at the end of the rainbow!  Whether you use watercolors and some construction paper, chalk on the sidewalk or even some colorful candy for dessert, make sure you spend some time creating rainbows! You can never go wrong when adding color to your life :)  Don't forget to surprise your tots with a pot of gold of their own! When they finish up with their rainbows, treat them with some chocolate gold coins, lucky charms, or homemade clover sugar cookies.  They'll love it!
3.  Irish Step Dance Challenge!
How about a fun dance off with the family?  If there's a tradition about the Irish that stands out the most, it's gotta be Irish Step Dancing.  Amongst the most popular dance traditions in the world, you'll find this very peculiar and fun dance style.  Wouldn't it be fun to try it out with the fam?  Just get some Irish tunes going, keep your upper body very still and work those legs!  Your kids will love it and the whole family will spend a great time full of fun.  If you're worried about your kids' hair getting all messed up from moving around, we got you covered with our Natural Hair Gel for Kids.  Let them move around and dance away while we keep their hair looking nice and out together.
4.Get Into the Shamrock Craze
If you like to be outside and your kids enjoy nature we have a great way for you to implement St. Patty's festivities and your green thumb skills.  Go out to the nearest or favorite parks in your neighborhood and look for shamrocks!  You can even look for that four-leaf clover that promises to bring luck into your life.  Or what about planting your own at home?  If you're into getting your hands dirty and love plants, why not add them to your backyard collection or a nice planter on your porch?  Great for those little ones that enjoy playing with mud and dirt.  Getting a little dirty never hurt anyone ;)
5.  Watch St. Patrick's parades and celebrations online!
The coronavirus pandemic has got everyone down. Us at Little Roseberry were really looking forward to celebrating St. Patrick's Day with the whole family, but alas! It seems like that won't be happening this year. But don't let it get you down! There are still plenty of ways to celebrate the holiday with your loved ones — even if they're scattered across different countries and continents. If you can't find a parade in person, there are many virtual parades on YouTube that will have you howling at their sheer awesomeness while also showing off some tremendous Irish culture as well!
So there you have it, our 5 ways to spend and celebrate St. Patrick's day with the family at home.  And since it wouldn't be St. Patrick's Day without a pinch of luck, we want to spread some of our own by giving you a PROMO CODE!
If you'd like to save 15% off on our Little Roseberry Hair Gel for Kids and Hair Detangler for Kids, use the code LUCKY ROSEBERRY 😉🍀 Make sure you use it today, through March 21 🤗  and share with those you care about the most! 💞
Hope some of these will brighten your upcoming St. Patty's day!  Please share with us if you decide to give any of these a try.  Look for all the Little Roseberry socials and use the hashtag #luckyroseberry to share pictures and ideas of what other things to do and celebrate. Happy St. Patrick's Day!🍀