10 Ways To Save Money in 2018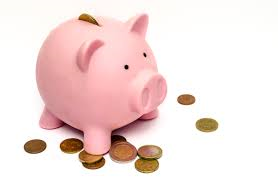 We're already a week and a half into 2018, y'all!. After the holidays and hundreds (if not thousands) of dollars spent on gifts and food, finances can understandably be a little tighter come January. That's why your gal pals at Little Roseberry are here to give you some quick and simple tips on saving money in the new year! 
Grocery shop differently. Plan out your meals for the week. Make shopping lists, plan a day or days to eat your leftovers and substitute for less expensive brands when possible.
Make quick home changes. Switch to LED lights, turn your thermometer up or down a degree or two, turn the AC off when you're not home. All of these little decisions add up to saved dollars!
Use sites like Groupon and Living Social. Deals purchased on these sites allow you to save bundles of cash on everything from hair appointments to vacations to eating out.  
Lower payment of cellphone bill. There's a big chance that there is a cellphone service cheaper than the one you are currently using. Research, and if you find a better deal, switch! 
If cable isn't something used too often in your home, consider switching to services such as Hulu and Netflix. These plans provide an abundance of tv shows and movies, and even combined can equal less than $20 a month! 
You know those annoying coupon books that come in the mail? Start using them! Easier yet, many of your favorite grocery stores probably have apps with coupons built in. Not only can this be strangely addicting, it won't be long until you'll notice a change in your savings. 
Go on free adventures - There's free fun in every city, but Austin is especially great at this. From hikes and parks to live music and weekly events, finding things to do with no price tag is only a Google search away! 
Instead of buying books, make it a goal to visit your local library more often. This is not only a money-saver, but can be fun and educational for the whole family. An alternative to this is buying and selling at places such as Half Price Books! 
Resolve to put a set amount of money aside weekly. Whether this be $5 or $50 a week, you will be thankful by year's end! 
Drop a bad habit. Challenge yourself to stop smoking, to stop eating out, to pack your lunch or to drink less. Not only will feel better, you'll be saving $$$ too! 
These simple tips can add up fast and save you lots of dollar bills in the process. Let us know your top tips for saving money this year, and let's all go big places this year!