6 Kid-friendly Grill Recipes for Labor Day Weekend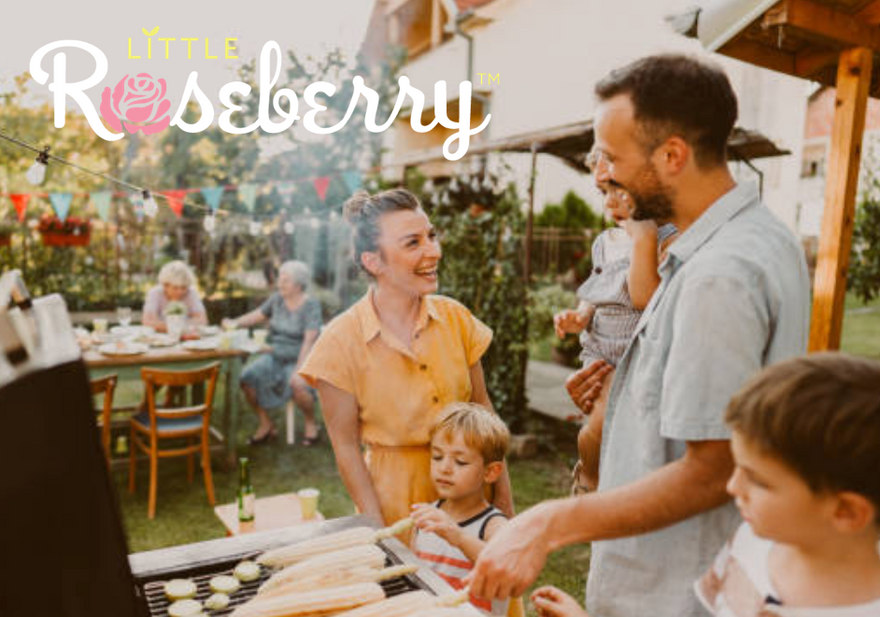 We have Labor Day Weekend just around the corner and you know what that means, right? Considered for some as the last barbecue of the summer, Labor Day Weekend is the great excuse to get the grilling going at least for one last time. Grilling is a great way to spend time with friends and family, but it can also be overwhelming. There are so many different types of food that need to be cooked on the grill at different temperatures-and sometimes you just want to enjoy the company instead of spending all your time cooking! We've got some recipes for you that will leave everyone happy!
Especially the little, picky ones. Hot dogs and hamburgers are pretty much a go-to option when it comes to summer grilling but today we want to share with you some of Little Roseberry's favorites that might help to do something out of the usual, and best of all, that the kiddos will enjoy.  Not only are these delicious, but also easy to prep and cook. 
Let's start off with one of our faves which is also one of the easiest. Quesadillas are a great way to eat a staple in our kitchen, which is cheese and we're sure that if you haven't yet tried a grilled quesadilla, once you do it will become a staple on your grill as well.  Whether you want to use corn or flour tortillas will be personal preference, we love both! It's as easy as placing a tortilla on the outside of the grill (just close enough for the heat to melt the cheese without burning your tortilla first!) and keep an eye on it and decide if you want to have a soft or crispy quesadilla. You can fill it up with your choice of meat, could be chicken, steak or a slice of turkey ham and once it's out of the heat you can add your fave veggies. Trust us, this is a must have during these summer meals.
As much as adults enjoy a nice grilled steak, it may not be as appealing for kids to have a chunk of meat on their plate. A good alternative could be preparing some fajitas for them.  Once the steak is grilled as desired, slice it up and put it on a cast iron skillet and add some colorful bell peppers and red onions, they will love the variety of flavors! You can also have the chicken variation using some grilled tenderloins.
This is a very convenient dish since everything is bite sized and, just like the other two options, you get a variety of protein and veggies. You can use beef, lamb or chicken and a variety of vegetables. Our favorite variation of this is chicken skewers with green bell peppers, onions and pineapple. We like to finish it off by brushing our favorite barbecue sauce all over it while grilling. If you have to pick one of all our options this weekend, trust us, this is the one.
If you want a meat-less variation, this will surely make the job. Grilling corn on the cob and adding some butter is sure simple but delicious. You can also add some lime juice, mayo and tajin for a bit of a delicious twist. Zucchinis, Carrots, Broccoli and Eggplants make great side dishes when grilled. Asparagus is also one of our faves, especially if you drizzle some olive oil and black pepper (so yummy!). Potatoes are delicious and so filling, and go really well with easy to find toppings. Maybe adding some butter and salt will be good enough for you, or going big by additionally using sour cream, chives,bacon bites, guacamole or pico de gallo. Make sure to foil them and add to the grill right away since they tend to take longer to cook. You don't want to make the hungry munchkins wait for too long!
Now, what is a barbecue without dessert? We all want that sweet bite after the savory flavors and it's a great chance to try something new while on the grill.
This variation of a classic will make it really easy to prepare and eat. You need a flour wrap or your favorite kind and add some chocolate,  marshmallows and crumbs of graham crackers. Roll it all up and place on your grill until all the goodness is melted. You can try using nutella or almond butter/peanut butter instead.
It can't get any simpler than this. Pineapple slice, sprinkle cinnamon and sugar and grill on both sides. Once you see it caramelized it's ready and it's delicious! You can add a scoop of vanilla ice cream on top for a refreshing version. 
We are so excited to share these recipes with you, they're some of the easiest and most delicious recipes around. We've been cooking all these for our families for years and we hope that these ideas will be useful for you. Happy Labor Day Weekend! And although we focused on yummy treats today, we want to give you a treat of our own for you to use on our website. Use PROMO CODE LABOR20 for 20% off this weekend! From Friday 3rd to Monday 6th you can add this when checking out for a great discount (: Make sure to share with those you love the most.
Happy cooking!