8 Delish Popsicle Ideas For The Summer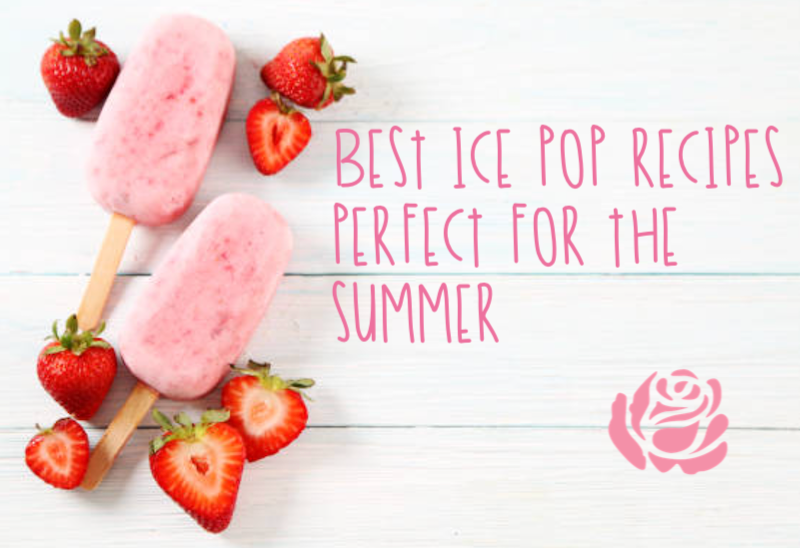 There are a lot of things that can make you happy on hot summer days, but what's better than an ice cold treat? Ice pops! The best part about these is the endless variety and how easy they are to make. Forget spending hours cooking up custards or buying expensive appliances; at their most basic all you need is fruit juice, paper cups and some wooden sticks. These desserts are perfect for your next picnic or dinner party, and they're family-friendly so everyone can enjoy them.
Ice pops may be best known as an after school snack in childhood memories, but adults should not forget about this innovative dessert either and Little Roseberry loves a refreshing snack, that's why here we give you a few of our favorite ideas.  For these you can use a popsicle mold  but if you don't have one no worries! all you need is foam or plastic cups and some wooden sticks.
Tutti Frutti means all fruits in Italian, so the name is pretty self explanatory.  Make a delicious and refreshing lemonade the way you like it.  Then cut up some of your favorite fruits like blueberries, mango, pineapple, strawberries or kiwis.  Pour your lemonade half way either using the popsicle mold or cup and then as many fruits as desired. Add some more lemonade if needed.
To make these popsicles, you first want to puree strawberries in a blender. The ripest and sweetest berries are the best for this recipe! You also need greek yogurt-the thick kind that is made from milk-, as well as honey or sugar of your choice (depending on how much sweetness you like). To get it just right, add 1 cup of fruit at a time until desired flavor has been reached. Make sure to leave them inside the freezer overnight before eating so they will be nice and cold when ready; 5 hours should do the trick! If adding more than one type of berry into your mixture, try mixing colors together for an interesting effect with each bite--you'll love popping these cool treats.
Creamy Coconut and Mixed Berry
Bring together blackberries and raspberries in a blender with honey, blend until smooth. Pour into two glasses then add vanilla bean milk to the bottom of one glass, while leaving it empty on top for an ombre effect or you can swirl it a little for a marbled effect.  You will love the taste of this combo!
Chocolate Banana Popsicles
This recipe is the perfect balance of sweets and savory flavors. The honey mixed with bananas creates a sweet flavor, while cocoa powder adds just enough chocolate to satisfy your cravings without being overpowering. Creamy almond milk balances out this delicious dish! Add a few banana slices along the popsicle mold or cups that you're using for a cute looking popsicle.
This is not your regular frozen orange juice.  We'll add a few ingredients that will be game changers for this refreshing popsicle! Mix 2 cups of fresh squeezed oranges, ½ cup lemon juice and 1 teaspoon vanilla extract in a bowl with the sugar until it all dissolves together. Pour into molds to freeze overnight or stick them back in the freezer once you pour them out if they don't fit nicely- we won't judge ;) This one's our favorite recipe so far-- let us know what you think!
If you like citrusy flavors, then give these a try. They're refreshing and sweet with just the right amount of tartness for balance. And they come together in only three ingredients: store-bought limeade or homemade if you want to go that route; Sweetened condensed milk; and vanilla Greek yogurt. These are by far my easiest popsicles yet!
Red, White & Blue Popsicles
Did we call our last popsicles the easiest? Well, nevermind, these are! 4 of July is just around the corner and these are the perfect treat for an Independence celebration.  You need cranberry juice, store-bought lemonade and a blue sports drink.  All you do is pour one color and wait for it to freeze to add the next color.  Not only are this delicious, but really fun to look at.
These are not popsicles per se but sure worth mentioning.  For these you'll need some frozen bananas, sliced in half seem to work best, your favorite microwaveable chocolate, some toppings like sprinkles, shaved coconut or nuts and wooden sticks. Freeze the bananas for a few hours and then dip in the melted chocolate.  Next thing will happen fast so you have to be quick, use your fave topping on it and coat the banana before chocolate hardens. We recommend you wait after it has been thawed for 10-15 minutes so that the soft texture can be enjoyed.  We think this is the perfect way to eat a frozen banana.
These are the best homemade ice pop recipes to keep your sweet tooth at bay and cool you down this entire season. With fresh, already-sweet ingredients that won't leave your family skimping on flavor when it comes time for a refreshing treat! This summer, you can't go wrong with a delicious and refreshing ice pop! Try any one (or three) of these easy recipes as the perfect snack or dessert.
And guess what, we have another treat for you! For a limited time, we have our Natural Hair Detangler Two Pack on Amazon with a $5 off discount! Make sure you stock up on these and get this great deal while it lasts (:
Happy Parenting!