April is Autism Awareness Month! Spread the Word!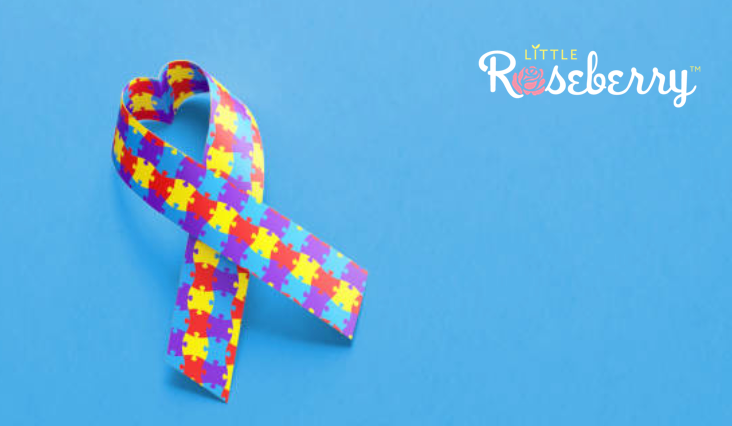 April is here! And along comes World Autism Month.  Little Roseberry wants to join the cause and conversation and we want to share with you some information and ways to get involved.
Autism is a neurological disorder that affects an estimated 1 in 54 children in the United States. As many as 20% of those with autism have no speech at all, while others may speak but not always fluently or comprehensively.  With all the different subtypes of autism, there is no one set way to communicate with someone who has it. The ways in which people with autism learn and problem-solve can vary greatly from person to person. 
There are many signs of autism that children exhibit throughout their lives, and these needs to be recognized by early intervention. Research shows the earlier an autistic child is diagnosed with this disorder, the better chance they will have for a positive life outcome down the road.  The Centers for Disease Control states that there are currently about 2 million people living on the spectrum worldwide and more than 500 thousand Americans alone-and this number continues to grow each year!
We're challenging you to wear blue or light up your house blue as part of a worldwide effort. The idea is that everyone will be wearing the same color on April 2nd, which is World Autism Awareness Day - and spreading awareness by sharing information about autism on social media can also help bring us closer together in our understanding of each other's differences and overcome discrimination based upon those similarities. Share these links with friends who might want to join; we need their support too!
These are different ways you can be part of the movement:
 Join an event - Here you'll find a list of online events to support the cause and learn more about autism.
 Speak up! - For those with autism, advocacy is the key to a better life. Help support and protect the rights and services on people with autism.
Become a partner - Use your platform to get the conversation started by doing good and associate yourself with the movement.
Fundraise -  You can also help get funds with your community.
Please share with us your Autism story to be featured on our social media and help share awareness! Also, get a chance to enter our Giveaway and get Little Roseberry products!  You can share your story by sending us an email to hello@littleroseberry.com
Let us know how you get involved by sharing and tagging us on facebook or instagram and enter to win our Award Winning Natural Hair Gel for Kids as well as the Natural Hair Detangler for kids.
How are you spreading awareness and celebrating Autism Awareness Month? Make sure to use the hashtags:    
#LightItUpBlue  #LightUpWithKindness  #Roseberryblue  #WorldAutismMonth 
and visit www.autismspeaks.org for more details.  You can get started by taking the kindness commitment at the 'World Autism Month' link on their website.