Back to School: How to Make a Smooth Transition to In-Person Classes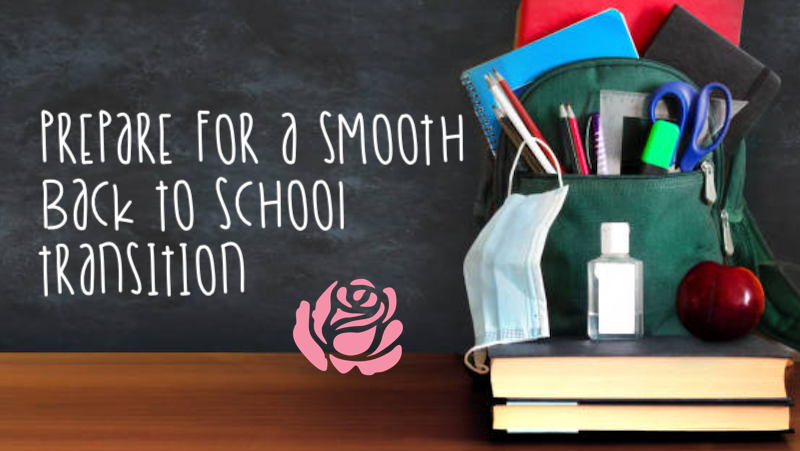 It's that time of year again where kids are back in the classroom and teachers are preparing for a new semester. Parents, it is also your responsibility to prepare your child mentally for the transition back to school after quarantine. In Little Roseberry we love to share what works for us, so today we will give you some tips on how to do so. 
The first day of school can be tough for many kids - but especially to this generation that technically spent the last year and a half on online classes, not having that classroom experience. The good news is that there are ways you can help them get ready so they have a positive experience this fall. The more you plan ahead of what your child needs, the easier it will be on them. They are less likely to worry and fret about their new school experience as well as not feeling alone when first starting out with meeting friends or making teachers feel at ease during those initial interactions.
It's been a while since they've seen their friends and teachers, but the time has come to make their way back into the classroom. With all of that excitement comes some anxiety as well. Here are a few tips to help prepare yourself mentally for returning to school after quarantine: 
If you're aware of what schools are doing for student safety this upcoming year- make sure to go over them with your child so they know all about these extra provisions before going back into the classroom! If there are specific situations or members within your family who pose an increased risk factor, be sure to explain how this may affect both yourself and/or other students around them while at school.
Have a family meeting where you talk to your children about their worries, fears and excitement. What are they looking forward to most? What are they not? Give them a safe space with friends or relatives that will give honest feedback on how the child is doing in school, what's happening at home and out of the house. Brainstorm solutions for any problems parents might be having as well as new ideas from kids themselves!
For some kids, worrying about getting sick is a scary thought. While it's important to be cautious and prepared for the worst-case scenario, your child can also use positive self-talk to counteract their worries. For example, if they say "I am worried that I will get sick," you could respond with "Yes! It's normal, it happens to me too sometimes." Then reinforce those thoughts by reminding them of all the precautions they are taking such as wearing protective gear and making sure they still practice social distancing.
Families who are making plans for the upcoming school year should be aware of how many things will change in their household. They'll need to make sure they're mentally flexible and ready to adapt, as nothing is likely set in stone yet. It's okay if it takes a while before everything settles down into something more consistent! Parents can communicate with teachers at schools about what changes may happen this fall and brainstorm together on ways to best support your kid throughout these transitions - like talking through tough topics or providing extra space when needed.
We hope all this info is helpful for you! Also, let us remind you that we have coupons going on to save while getting your favorite Little Roseberry products! Get $3 off the Baby Sleep Remedy, Our Natural Hair Detangler for Kids has a $5 off coupon when you get the Two Pack!, our Natural Hair Gel for Kids has a $2 off coupon when you get the Two Pack as well and our single presentations have $1 off, both Natural Hair Detangler and Hair Gel for Kids. Don't miss the chance to stock up on some goodness.
Happy Parenting!