Christmas Activities For The Whole Family!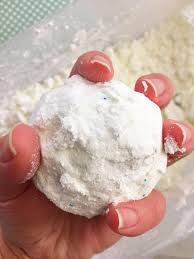 Can you believe that Christmas is only a few short days away? Hopefully you are wrapping up (literally) the Christmas presents and getting ready for cozy festivities with the family. Little Roseberry is here to make sure your holiday season is extra merry and bright with Christmas activity fun for the whole family! 
Use one pound of baking soda and about a handful of shaving cream to create! Simply knead the two together, and feel free to use an essential oil like lavender to make your snow smell good too. Easy and SO fun! 
Create some art with the kiddos that can hang on your Christmas tree for years to come! Glue three popsicle sticks together in a triangle shape. Paint the sticks brown and let dry. Once dry, glue googly eyes to sticks. Use a red pom pom or button for the nose. Use a small piece of ribbon in a loop shape to glue to the back of the sticks to complete your reindeer ornament. Enjoy the memories this will hold for many Christmases to come! 
Fold card stock in half and arrange oversized gemstones or buttons onto card. Glue into place and proceed to draw a string from the top fold down to each gem. Draw bows. Just like that, you now have the simplest and cutest holiday cards ever! 
You'll need one box of cake mix, two egg whites, 2 tablespoons of flour, 1/2 cup of oil, 3/4 cups of chocolate chips (and a little more to press on top of the cookies before baking) and 1/4 cup of red, white and green holiday sprinkles. 
Preheat the oven to 350 degrees and combine cake mix, egg whites, flour and oil. Mix well and proceed to add 3/4 cup chocolate chips. Roll the cookie dough into 1-2" balls and place 2-3" away in baking sheet. Lightly press down on cookie balls and place the extra chocolate chips and sprinkles on top. Place in oven 8-10 minutes, checking often to avoid overcooking. Enjoy your yummy Christmas creations, and save a few for Santa... if you can! 
This is sure to bring lots of laughs and is fun for all ages. Only requirements are paper plates and markers. Optional prizes might be fun too. Select an instructor and have them tell the players to place a paper plate on their head. With one hand holding the paper plate and the other the marker, the players will listen to the instructor explain steps in order. First draw the ground and snow, then the large snowball for base, followed by medium and small snowballs, a carrot nose, coal eyes + mouth, etc. Now check out your snowmen masterpieces and try not to giggle too hard!