DIY MOSQUITO REPELLANT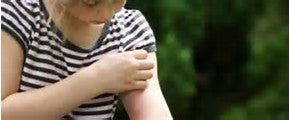 At Little Roseberry, we're all about those all-natural, healthy ingredients. That's what our products our made of, after all. That's why we went ahead and found you a super simple recipe for homemade mosquito repellant. The hotter months are upon us, and when you and your little one are having an amazing time in the great outdoors, the last thing you want to worry about is those nasty, bloodsucking critters. At the same time, is it much better to use a chemical-filled bug repellant? We don't want you to have to choose the lesser of two evils, and that's why we have this easy DIY prepared. So have a blast outside, and don't worry about those mean mosquitoes. We've got your back! (And your front....and wherever else those bugs try to get ya.)
Use 60 drops or around 1/2 teaspoon of your choice of essential oil (mixing the oils is fine) listed below:
Citronella
Cloves
Cinnamon
Tea Tree
Eucalyptus
Cedar
Lavender (Also found in Little Roseberry products!)
Lemongrass
1/2 Cup distilled or boiled water
1/2 Cup witch Hazel
optional- 1/2-2 teaspoon vegetable glycerin. (Optional, but helps to combine the oils and water)
1. Add water and witch hazel into a spray bottle.
2. From there, add glycerin and essential oils. Adding too much oils is A-Okay, it will just make for a stronger--but not less effective--bug repelling potion.
3. Next, put on cap/sprayer and shake up. Shake before using.
Your all-natural mosquito repellant is ready to go!