Easy Christmas DIYs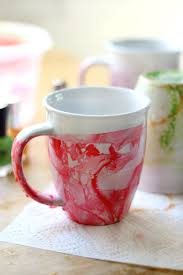 Thanksgiving has come and gone in all of its food coma glory, and you know what that means! Christmas will be here before we know it. Let the countdown begin! We've got some fun and easy holiday gift DIYs to make the waiting part as fun and festive as it can be. These are simple enough for the kids to join in on, making it a great project for the whole family to enjoy. 
You'll need a glass jar, 1 cup of sugar, 1/2 cup of oil (olive, oil, coconut, etc), 1/2 teaspoon Vitamin E oil, 1/2 teaspoon real vanilla extract and 15 drops of lavender essential oil. Mix all ingredients together in a bowl and feel free to add more oil if needed. Make sure to share this in an air tight jar. The more adorable the jar, the better the gift! 
For this work of art you'll need a coffee mug, nail polish, a plastic tub (or large plastic container) and water. Fill the plastic tub with 1/2" of water and sprinkle gobs of nail polish into it. Dip your mug into the tub and try to cover as much of the mug as possible. (try to only dip once as the mug can appear clumpy otherwise.) Dip the handle after the base of the mug has dried. After everything has dried, clean off all excess with nail polish remover and coat with a finishing clear spray. Easy peasy and perfect for filling with makeup goodies or other treats for a simple, creative and inexpensive gift! 
SO simple, yet SO cute. Use craft acrylic paint to paint the bottom of wooden kitchen utensils. First put painter's tape on the utensils to mark a line of where to start. You don't want the paint to touch where food will be. After this step,begin painting! You can use one or two or even three colors, whatever you think will look best! If you use more than one color, start the second color by painting a line around the first color and proceed to paint the dark color where you want it. It will probably take about two coats per color. Put the utensils in a coffee cup and allow the paint to dry overnight; use a spray finishing gloss the next morning. Put aluminum foil over the top, non-painted portion to avoid getting gloss on this part. Buy an inexpensive glass vase or container to store these beauties in and you have a perfect Christmas gift for anyone who loves their kitchen! 
This is a sweet, personalized gift that you only need three items to make! Have cork, scrabble letters and E6000 glue handy before you start this project. Have a message or words in mind, and use the bottom edge of the cork to make sure that the letters stay in line. Glue the letters to the cork board (four across and four down) and wait to dry. Once dried, use an X-ACTO knife to cut the cork. For extra safety, coat the top with mod podge. 
Grab several clean jars. Ross or TJ Max is great for this! Make sure to soak them in water to remove any tags. Use Goo Gone for glue residue, and soap to remove the residue of the Goo Gone. When this step is finished, wrap yarn or string all around the jar and tie a knot. Wrap again with crisscrosses and overlaps until you like the look of the jar. Tie leftover string where you started. Cut off the ends. Place the jars upside down on a large covered surface (preferably outside - this can get messy) . Spray paint evenly with two to three coats. Once dried, cut the string in one place and go ahead and unwrap! Place a tea light inside, wrap a little yarn around the front and add a bow. These adorable gifts are ideal for anyone you know who loves to decorate! 
We can't wait to hear how these turn out! Enjoy the gift of giving with those you love best and happy holidays!