Easy Ways To Help your Kids Adjust to Daylight Savings Time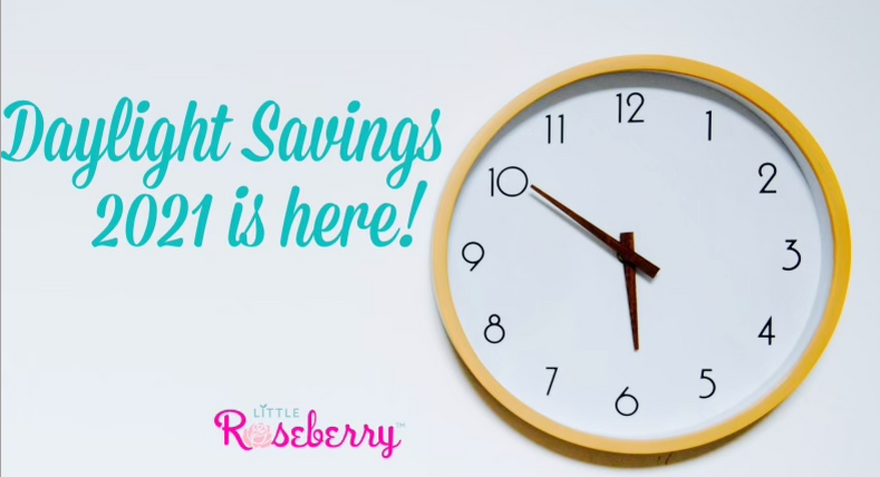 The days of sleeping in are gone. Now you have to get up early to make breakfast and take them to school (or start online classes at home) on time. You could stay up late, but now there is the worry that they will wake up too early or stay awake all night. Sleep is no longer free, it has a cost: one less hour with your family every day! The time change is the most challenging part of Daylight Saving Time for many people. Here at Little Roseberry we have some tips and tricks to help you adjust easier.
First of all, the basics. Be sure you and your family drink lots of water, avoid caffeine and alcohol, take a walk in the sunlight, eat lots of fruits and vegetables, and get plenty of sleep. For some people this is just a minor inconvenience but for others it triggers underlying health issues like migraines or sleeping disorders.  The Little Roseberry fam knows how important it is to keep practicing those healthy habits because they could be the ones that make all the difference in keeping a functional routine for you and the kiddos.
Some other more specific ways to avoid having a hard time are:
1) Try to sleep in an extra hour before you go to bed on Sunday night, so your body has a chance to sleep longer than usual before the clock changes at 2 am on Monday morning. 
2) Get enough exercise - working out is known as one of the best ways to keep our bodies healthy, but this point becomes even more important when we have trouble sleeping! Plus it'll give you a nice pick-me-up in the evenings.
3) Avoid any stressful situations or decisions until after your body adjusts from Daylight Saving Time (AKA try not worry about anything).  So, if figuring out what to do with your kid's messy hair every day is a hassle, you might want to grab a bottle of our Natural Hair Gel for Kids to keep things under control and stress-free.
You might find yourself feeling a little more sluggish in the morning as you slowly wake up to an alarm clock that's telling you it's 8 am. But, your body will still think it's 7 am! That means for several days after you switch over, mornings can be tough.  Even if you are running late out the door - you can quickly grab Little Roseberry Hair Gel for Kids and in a snap make your handsome child look superb!  We got your back.  Hope some of these tips make the transition easier for you and your family.  Let us know what works for you and if you have any other tips please share with us on our socials!