Fun Ways To Celebrate Dad this Weekend!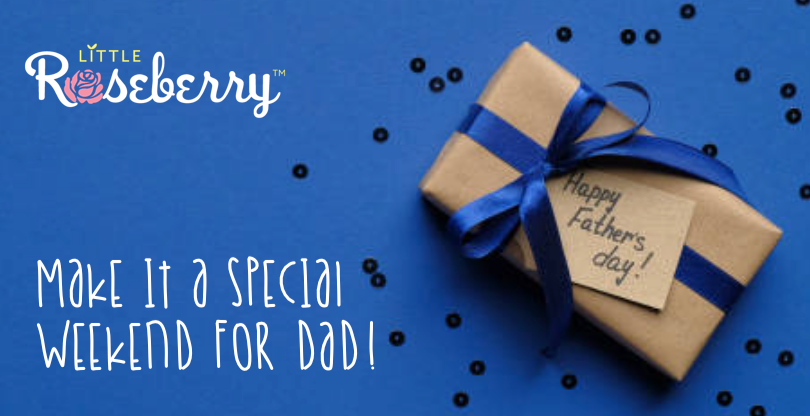 Celebrate Father's Day by celebrating all the fathers in your life. Whether it be a biological father, husband, step-father or brother there are many ways to celebrate different types of dads this day and every other day they deserve for their dedication as an integral part of our family unit.  
In the Little Roseberry fam we know it can be difficult to find the perfect gift. Try some of these ideas below and you will not only have something sentimental but also practical for your father's day! Here are some ideas that will work whether he's a sports fan, outdoorsman or someone looking for something more relaxing.
Play his fave sport together.
You know your dad loves his sports, and it's time for you to really show him how much he means to you. Whether that be playing a game with him or watching the games together (or better yet- going to some of them), make this Father's Day one worth remembering!
2. Give him a spa day!
Dads are hardworking and deserve some pampering! Give them a break from their day to enjoy something relaxing, whether that be going out on the town or heading home for a spa day at home. You can't go wrong either way you choose!
3. Host a friendly family competition.
Trick your dad into having a great time with you and the family! You can come up with some competitive games to have as a whole event. Minute-to-win-it is always an option, but alternatively look for easy festival ideas that are more fun than just making everyone search through their closet or find things around the house. There could be prizes involved in this game if they want something extra special like who has found the most items recently from our last trip out of town together.
4. Play games.
Board games, card games or even video games are a great way to bond as family. Spend some quality time with your dad and play his favorite board game! Father's Day is the perfect opportunity for this type of bonding experience because it can be hard finding good quality free time together during busy weeks. Share quality family moments with your son on Father's Day so he can see just how much you love him!
5. Participate in his favorite hobby.
Spending time with your dad doing his favorite hobby is an excellent way to cheer him up. When you're spending quality bonding time together, he'll love what he's doing and it will be like a vacation for the both of you. The best way to cheer up your dad is by spending time with him doing his favorite hobby. When you're doing it together, he'll love what he's doing and it's a great opportunity for bonding time! 
So there you go, hope some of these ideas will help you make this Father's Day one of his faves! We hope you have a great weekend making it extra special for your dad.  And since we want know dad always love to save some money, remember that our Little Roseberry products have coupons going on on Amazon.  You can get our Natural Hair Gel for Kids and Natural Detangler for Kids as well as the Sleep Remedy for babies!
Happy Parenting!