Halloween Makeup Tutorial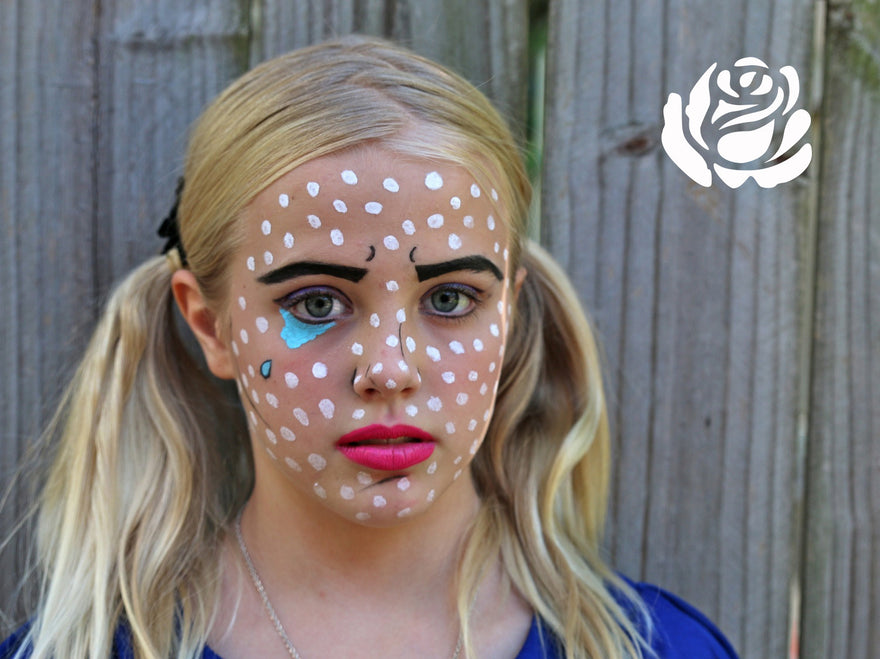 Little Roseberry Halloween Doll Makeup Tutorial is an affordable and clever way to dress up this Holiday season. The cost to create was under $15. We found a dress in our closet, black eyeliner from mom and we purchased a safe waterproof halloween makeup pallet. We use this to create the Pink Lips, purple eyelids, white dots and blue water drop.
What you'll need to create:
1 Black liquid eyeliner
1 Eyeliner brush
1 Halloween face makeup color palette with white, purple, pink and blue.
1 pack of toothpicks
1 bag of cotton swabs
a Cute outfit
For Hair:
1 Little Roseberry Hair Jelly
1 Brush with a rat tail end to create the zigzag
2 elastics
2 Bows to accessorize the hair
This video was created by Little Roseberry, a healthy line of children skin & hair care products.
THE CREATION:
Start by parting your hair in two ponytails with a zig zag parting. Use Little Roseberry Hair Jelly to stop all flyways and stopping hair from falling out on the back. Secure with an elastic and accessorize with two cute not matching bows. Coming soon a video on how to make the perfect pony tails. SUBSCRIBE! to our channel so you can receive an email of the latest video by Little Roseberry.
The next thing to do is to apply purple EYE MAKEUP on the mobile section of her eyelids. Follow by tracing the purple eyelid with LIQUID BLACK EYELINER on her mobile lid, right above the ball of her eyes. Finish by tracing the bottom of her eyelashes all of the way to the water line.
Create a WATER STAIN by using your water base halloween makeup and do NOT forget the WATER DROP. Extend the water under the bottom eyeliner mark close to the inner and outer side of her eye.
Start by tracing her EYEBROWS with black eyeliner makeup, extend and elongate for more dimension. Use a cotton swab if you need to correct accidents until they both are perfect. Remember, eyebrows are sisters not twins, so just get them as close as you can.
Continue by adding WHITE DOTS of makeup using a cotton swab or a lipstick makeup wand (disposable). I started on the right side of my model and I stopped half way, as it was LIPSTICK TIME. I applied on her pink lipstick to match her dress and continued on the opposite side with the WHITE DOTS.
Lastly we added EXPRESSION MARKS, with a toothpick I created the eyebrows expression mark and with an eyeliner I created the nose marks, the chin and the chick. For extra dimension I outlined the WATER DROP.
This makeup only took us 17 minutes to create and I believe is a last minute halloween costume idea. Enjoy, leave your comments below and SUBSCRIBE!
EASY PEASY HAIRSPRAY SQUEEZE VIDEOS are loaded to Youtube Weekly!
Subscribe to our channel so you can receive our videos directly to your inbox.
Thank you and please Keep watching.
If you are social, you can find us on:
www.facebook.com/littleroseberrykids
www.Instagram.com/littleroseberry
www.pinterest.com/littleroseberry