Little Roseberry Hair Gel Voted Best Organic Gel!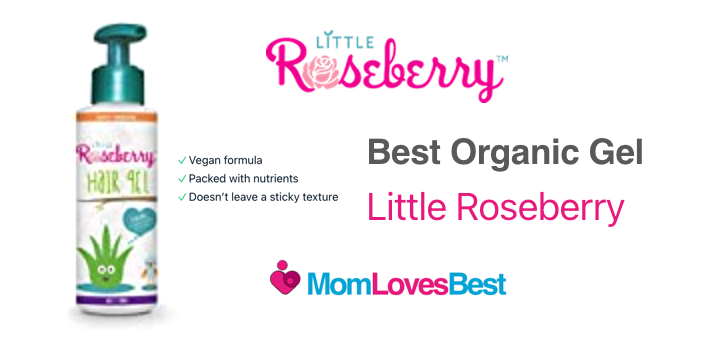 Finding a hair gel that suits your needs can be tricky. Little Roseberry has solved this problem with their all-natural, organic hair gel! It's gentle enough for kids and adults alike to use without causing any irritation (and even helps prevent sensitive skin from breaking out).
Thanks to all of this backing us up, Little Roseberry Hair Gel has become a favorite once again, this time named the Best Organic Hair Gel by MomLovesBest!
"What stood out to us was the base of the gel." They stated on their blog  "Little Roseberry has made it with organic aloe vera juice as opposed to water." This enriches the gel with powerful vitamins that protect your little one's delicate hair
The best part? This stuff is made in small batches so you know it's fresh when you buy it -  no more of the weird smell or greasy feel some other gels have after they've been sitting on store shelves too long.
It's never too early to start taking care of your child! Little Roseberry is committed to making their products with love and using only organic ingredients. The base for this gel is made from Aloe Vera Juice, which contains loads of vitamins that will keep baby's hair strong and healthy.
Little Roseberry is a family-owned business with one goal: to bring happiness and confidence back into the skin of children. Their gel uses organic aloe vera juice, which contains high concentrations of nutrients that protect delicate hair from breakage and damage during styling or brushing.  Little Roseberry cares about kids' health because they're more than just customers; we just want to make kiddos and their parents happy!
What we love the most about our hair care line is that it doesn't leave locks feeling stiff or sticky. Thanks to aloe vera and witch hazel, your little one's mane receives a dose of antioxidants, minerals, and vitamins!
MomLovesBest is a blog written by women, who are not only moms,  but a  team of experts and medical consultants that are dedicated to ensuring you have the latest, most accurate information at your fingertips. Their extensive training and research guarantees that they will give you trustworthy content every time. Make sure you check out MomLovesBest for other helpful information.
Also, you can get our Natural Hair Gel from our website or Amazon, where we currently have $1 off a Single Natural Hair Gel or $2 off the Two Pack Natural Hair Gel.  Make sure to go get yours today!
Happy Parenting (: