Natural Remedies For Sunburn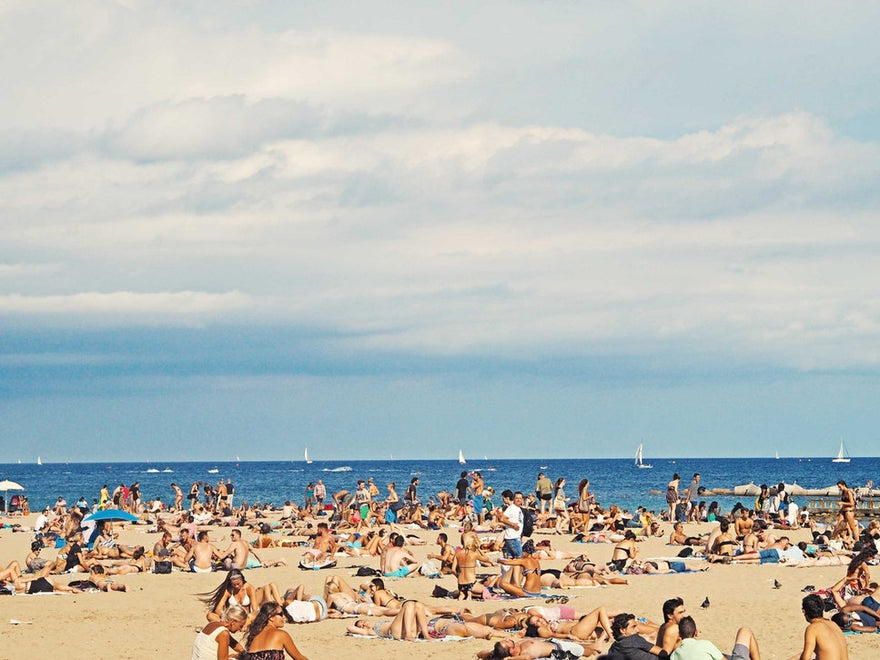 The weather is warming up, and it's only going to keep getting warmer. And warmer. And warmer.  
Summer is full of pool days and plenty of other outdoors adventures, and it's important for the whole family to stay protected from the sun.
Still, accidents happen and sunburns do too. If you or your kiddo have a little too much fun in the sun one day, don't fret. Your friends at
Little Roseberry
have some all-natural tips on how to help soothe that sunburn! 
- Aloe Vera 
This soothing plant is also an ingredient found in our Little Roseberry products. This will help both cool and heal you or your little's skin. 
- Stay hydrated 
A sunburn dries out skin, so drinking lots of water is key to help aid in a quick recovery. 
- Honey
Honey works as a natural topical burn salve and some studies show that it works even better than antibiotic creams! Honey can be dangerous for kids under 12 months, so avoid this if your littles are too little. 
 - Coconut Oil 
Soothe your skin and reduce peeling and redness with the help of coconut oil. This can also be used as a very mild SPF! 
- Essential Oils 
Mix a water bottle with three drops of an essential oil such as lavender, and spritz on the skin. This will help ease pain and quicken recovery time. 
- Apple Cider Vinegar 
Try dipping a washcloth in vinegar, wringing the cloth out and patting it gently on the sunburned areas. Also try mixing the vinegar with soothing herbs. Boil 1 cup of water, and add two tablespoons of dried mint leave, lavender flowers and a dried plantain leaf. Let cool. Once cool strain out the herbs. Add equal parts of apple cider vinegar to the tea mixture and pour in spray bottle. Spray on affected areas as needed. Apple Cider Vinegar is an incredible way to help lessen sunburn pain! 
-Witch Hazel
- Applying witch hazel, another ingredient found in Little Roseberry products, can reduce inflammation and help relieve sunburn pain. 
- Oatmeal
Grab some finely ground oatmeal - colloidal oatmeal - at the drugstore. It works as an anti-inflammatory when mixed with bath water! You can also make your own by crushing a cup of instant or slow-cooking oatmeal in a blender or food processor until it is fine and smooth. Now pour in the tub and soak! 
- Milk 
Place a washcloth soaked in cool milk on the sunburned area. This will create a protein film that will lessen pain and reduce heat. 
- Cucumbers
 Did you know that cucumber have natural antioxidant and analgesic properties?  They can be chilled and mashed in a blender to create a paste. This paste can be placed on affected areas of the body to help relieve sunburn pain. Cucumbers are also great for soothing peeling skin post-sunburn. 
- Vitamin E 
Vitamin E is an antioxidant and can help decrease inflammation. Apply Vitamin E oil to skin or take a dose of the supplement. This is another ingredient that can also be used to ease the pain of peeling skin.
- Potatoes 
Odd as it sounds, this can also be effective! Boil and mash peeled potatoes, let cool and apply to sunburned areas. The starch in potatoes can help draw out heat, which can aid in both a faster recovery and less pain. 
- Coriander Oil
Rubbing this essential oil onto a sunburn has been shown to reduce inflammation! 
- Freshly brewed tea 
Apply using a clean cloth after the tea has cooled. The tannic acid in black tea may also draw heat from sunburned skin, and may also aid in restoring PH balance to skin. Adding mint to the tea will add a cooling effect to the sunburn.  
- Cornstarch 
Mix cornstarch with water to create a paste to help relieve sunburn pain. 
These natural ways to find sunburn relief will keep your summer fun, safe and worry-free! Now it's time to get out there and soak up the sun!