SIMPLE NO-SEW SKIRT DIY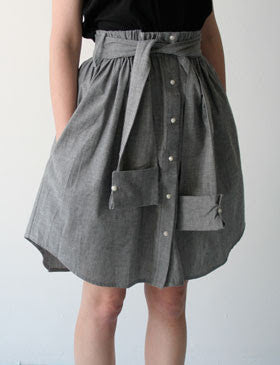 Here's the thing. Most of us at some point have probably worn our hubby's, boyfriend's, best guy friend's or even brother's clothing. Let's face it, men's clothing just tends to be SO much more comfy. But did you know there's a way to wear the guy's clothing and look like a fashionista while you're at it? It's true, and Little Roseberry is here to share the 411 on perfecting the art of turning masculine clothing into pure trendiness. Just follow these simple steps and you'll be feeling sexy AND comfy in dude's clothing in no time.
1. Take a man's button up shirt and button 3/4 of the way up.
2. Step into the shirt.
3. Button as needed to fit around your waist, and make sure the collar is folded and not showing.
4. Tie the arms of shirt into a big knot or bow in the front.
5. Now pull the shirt up to your waist, and move until it's straight.
6. Tuck any excess fabric away into the fold.
Boom. That's it! You've got your very own skirt, made out of men's clothing in six very easy steps. We get it, fellow mommy. You're busy, but you still want to look good. You want to get work done and still be able to work it. Your friends at Little Roseberry are here to help you both with our all-natural, healthy products and with our simple but fabulous DIYS. Get it, mama.