STYLISH AND CUTE HAIRSTYLES FOR GIRLS THIS SUMMER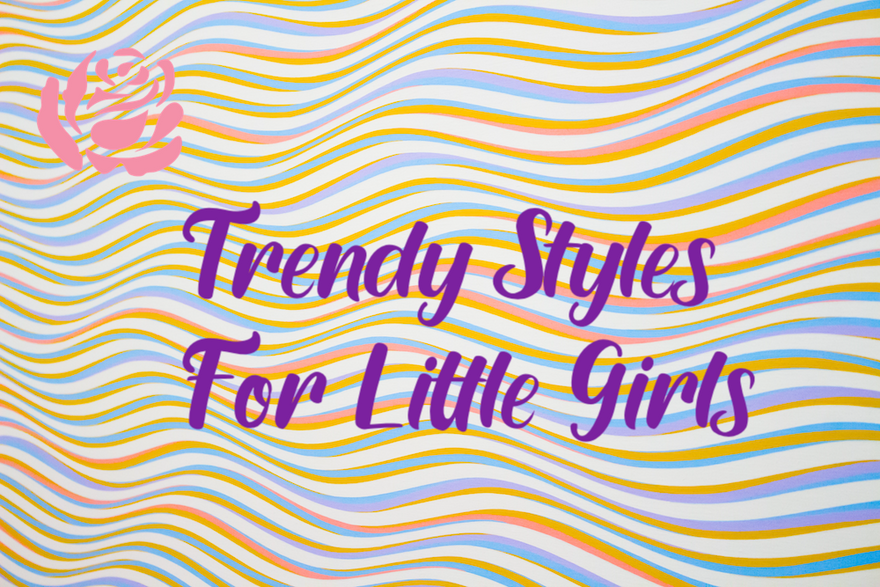 Toddler girl hairstyles will always be such a hot topic for parents. I've never met one who doesn't want to know what the best style is and how it should look on their little girl's head! Today, Little Roseberry wants to share with you our favorite girly styles that not only make your daughter feel like an adorable princess but also keep her cool in this summer heat. We have everything from braids, pigtails and updos as well as the signature ultra-easy ponytail with a few twists.
Creative, simple hairdos can be created with only a little time and effort from mom or dad - we've even provided some helpful variations on each style should they need them. Create an amazing hair do while bonding with your child  - let's dive into each of them below:
Braid into Bun Combo
You can never go wrong with braids! And this look sure gives it a nice twist, there are so many different variations to this look and it's super easy. Whether you want a regular three-strand braid, fishtail braids or just a few twists, a bun will always give it a nice touch. Here we give you a few ideas on how to style this look. If you're into the messy look, you can spray some of our Natural Hair Detangler ahead of time to help you style and give you that relaxed look.  If slick back and tidy is your go to, then using our Natural Hair Gel will sure do the job!
High Ponytail
The statement piece, right? When in doubt, go for the high ponytail. It not only makes the hair look styled and cute, but also helps get the hair out of the way for girls who love to be out and about being active, doing sports or just enjoy having their hair out of sight.  You can add a braid at the end or make it sideways if you're just not into the classic ponytail.  Little Roseberry Natural Hair Gel will help with fly-aways and baby hairs that get in the way. Our Natural Hair Detangler will also help when brushing and getting rid of the knots for an easy hairstyling session for your little girl.
Gibson Tuck Updo
The Gibson tuck is a perfect hairstyle for the little diva in your life, but it's also simple to recreate. All you need is a comb or brush, a hairband, some bobby pins and Little Roseberry Natural Hair Gel to keep it all in place. Simply twist the hair around the band, tuck it inside and pin. This look is great for special occasions like a formal party or for a beautiful flower girl. The best part, although it looks very high-end, it is still very comfortable. No need for those intricate updos full of tight rubber bands all over their head, with twisties and curls everywhere. If they enjoy that look, go for it! Just make sure your girl feels good about it. You don't want your sweet girl to feel like she wants the party to be over with to get rid of all that fuss in her hair. A comfy kid is a happy kid!
Faux Hawk Style
The simple style for active days is here! It doesn't get much easier than this one, and it's perfect if you have thin hair. You don't even need any partings to create a fun, edgy look—you simply pull your girl's locks into a row of ponytails with ends feeding the next outwards. Easy peasy! A look that became very popular back in the day thanks to Rey from Star Wars, you don't need anything but a few rubber bands, some of our Little Roseberry Natural Hair Care Products for Kids to style as desired and your fingers to get this funky style. 
Braid/Twist Crown Updo
A.K.A. the Frozen braids. Ana and Elsa rock so many beautiful braid styling in the Frozen movies, and some of the most popular are their amazing crown updos. These are inspired in those looks and we show you in the pics that you can do whatever variations you can think of! The perfect style for a quick nice look, the side braid will keep the hair off of their face and out of view while they're running down to school in that hurried morning madness. Parting it across the head at an angle from temple-to-ear is key - this starts our braiding journey towards where we want it: all tied up just as quickly! Work one's way past ear level before joining with either ponytail or bun, whichever suits best. A cute variation is doing braids on the sides. Adding something decorative like ribbon into the braids or ending it with a bow gives it that final touch.
Keeping this in place will be a breeze with Little Roseberry Natural Hair Gel. Our formula is gentle and full of all-natural ingredients, so you can apply as much as needed without worrying about harsh chemicals.
The best way to find out what your daughter likes is by letting her experiment with different hair styles. This blog will be a good starting point for you- there are so many ideas in here, they should have fun trying them all!
Please take a look around our SHOP section so you can learn more about Little Roseberry products.  If you'd like a promo code for your next purchase make sure to tag/comment/dm us on either Facebook or Instagram and tell us which is your fave hairstyle.
Happy Parenting!