SUPER VITAMINS TO THE (SKIN CARE) RESCUE!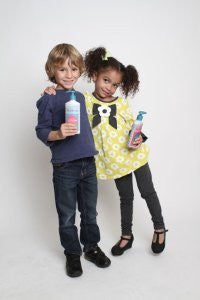 Little Roseberry products are packed with ingredients that do amazing things for you and your little ones' skin.
Take Vitamins E and C, for example. Our Berry Shiny Hair & Body Wash is fortified with these two vitamins. Of course most know that vitamins are good for you, but do you know exactly why they are so good? Little Roseberry is here to let you know the incredible benefits of both. Ahem.
Vitamin E is great for preventive care. In pill form, It has the potential of guarding you from a long list of illnesses and diseases--Everything from Alzheimer's to asthma!  But for the skin in particular,  vitamin E protects skin cells from ultra violet light, pollution, drugs, and other elements that produce cell damaging free radicals. It helps skin look younger and soothes sunburn, scars and burn wounds. It can also help treat diseases such as psoriasis and eczema, and reduces the appearance of stretch marks and age spots. It also has the power to fight split ends, and to promote healthy, long, radiant hair. Wow! Good thing we have both hair and skin care loaded with that super vitamin.
Taken orally, vitamin C also works as an antioxidant. It is known for fighting off illnesses and may even help to treat the common cold. When applied to your skin, vitamin C can help to reduce the appearance of brown spots, help produce collagen production (this means firmer skin), fade post break out red marks, reduce inflammation and irritation, increase SUV protection, and fight the process of aging.
Remember-- These are main ingredients of our Little Roseberry products. If you are looking to reduce the signs of aging for you or fight the signs of aging for your little one--or just shine with all around healthy, radiant skin--
We've got a vitamin-packed skin care line for you!