Toilet Paper Roll Crafts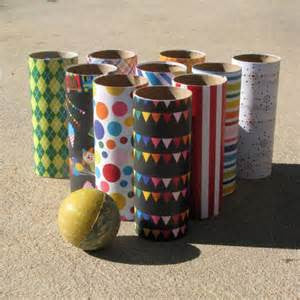 It's looking like another rainy weekend is upon us, so if you're looking for some quick but fun craft ideas, we've got you covered. Toilet paper rolls to the rescue! Try these simple ideas to turn bathroom necessities into magical works of art.
1. Toilet Roll Octopus
Begin with an empty toilet paper roll and use scissors to cut slits on the bottom. Push it down towards the table so they spread out. Paint the octopus whatever color you like and when dry add goggly eyes. There you have it--Toilet paper octopus!
2. TP Binoculars
Cut a piece of construction paper so that it wraps completely around one of the toilet paper rolls. Tape the construction paper in place and then do the same thing with another roll. Next, use double sided tape to stick the two toilet paper rolls together. From there, cut a piece of construction paper that is long enough to wrap around the two toilet paper rolls. (This will serve to hold them together.) Tightly wrap the piece of construction paper around rolls and tape the ends together. Add more tape underneath this piece to have it stick even better. Decorate binoculars however you like! If your child is old enough for string necklaces to be safe, you can also poke a hole on either side of the finished binoculars ; Thread and knot the string through the holes to make a "strap" for the binoculars.
3. Bowling De Toilet Roll
To start, fancy the rolls up with origami or scrapbooking paper and attach with double sided tape to. For numbers, use foam stickers or a marker.
To make the ball, use a small toy ball or simply crumple up a piece of paper and then wrap tape around it to cover it.
4. Cardboard heart
Start by flattening the cardboard tube so it had a crease on two sides.Then push one crease inward to make a heart, and wrap a piece of tape around roll to help the heart shape stay put. Then pour a paint color of your choice onto a plate, dip the roll into paint and BAM! Toilet paper heart stamp, ready to go!
5. Firecracker Roll
This one's PERFECT for Memorial Day!
You'll need two toilet paper rolls, scissors, glue, glitter, sequins pipe cleaners and red paint. First paint an empty toilet paper roll red and let dry. Then take an extra TP roll and cut it open. Proceed to trace the bottom of the other roll onto it and cut it out (Soon to be the top of the firecracker.) Next, paint the circles red and poke a pipe cleaner through it. Bend them so they are somewhat curvy. Then decorate with glitter, sequins and any other decorations that you and your kids love!
Oh- And don't forget to show Little Roseberry your results!