Valentine's DIYs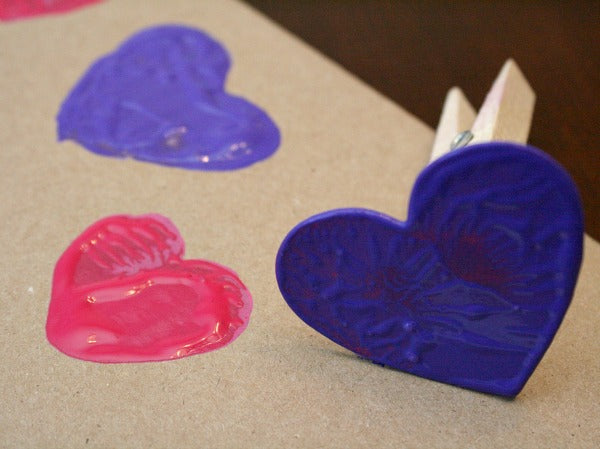 Friends, it's officially two weeks until Valentine's Day! Celebrate the day of love by creating magic with those you love most. These fun and easy DIYs are ready to give you heart eyes for days.
You'll need salt dough or clay, a rolling pin, cookie cutter, acyclic paint, a Sharpie, straw and yarn.
Roll out a small bit of clay with a rolling pin and have your little one press their thumb into the clay at two slants (a V shape) to form a heart. Use a straw to poke a hole at the top of the ornament. Preheat the oven to 250 degrees and bake for about an hour. When the heart has hardened and cooled, paint around the thumbprints in white acrylic paint. Continue to paint the inside of the ornament and let dry. Use the Sharpie to write your child's name and the date underneath. You can also make another ornament and add multiple thumbprints for each member of your family. Decorate the thumbs to make quick sketches of everyone! How fun and simple is that?! 
All you need for this is clothespins, foam hearts and paint. Use a glue gun to attach the end of a clothespin to a foam heart. Experiment with the amount of paint to put on the heart until you find the perfect heart-to-paint ratio. Proceed to make the cutest Valentine cards ever with these adorable stamps! 
You'll need a glue pen, glue gun, oval-shaped rocks, magnets, acrylic paint, and a small gift box.
Paint a few rocks with the acrylic paint but leave some sans paint for a nice mix. Use a glue pen to draw hearts, arrows and other fun designs. Dust with fine glitter. Proceed to take a strong magnet and hot glue to the backside of a rock. Put in the cardboard box and you have a sweet and thoughtful gift!
These crafts are fun for your whole crew, and will create memories to last a lifetime. Happiest of Valentine's from your friends at Little Roseberry!