ZIG ZAG PONYTAIL & SPAGHETTIS TUTORIAL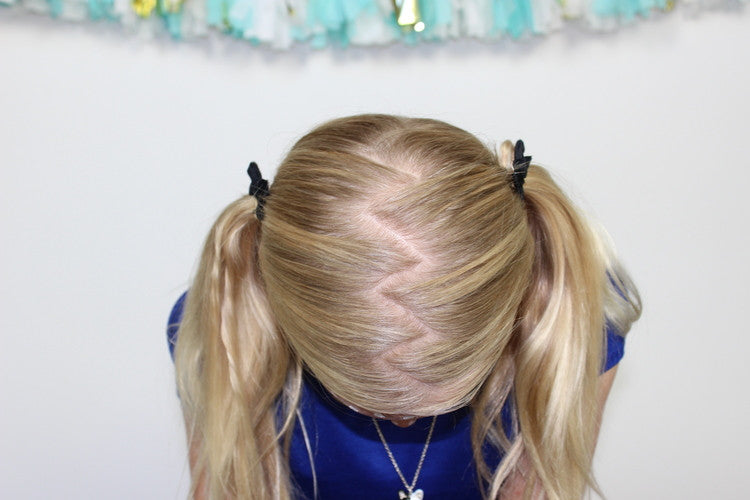 Little Roseberry zig zag ponytail hair tutorial video is about to show you different ways to use Little Roseberry Hair Jelly. We want to welcome you to subscribe to our Easy Peasy Hairspray Squeeze youtube channel by Little Roseberry, where we teach creative ways to get your hair did! 
Little Roseberry hair Jelly is toddler friendly, it is 90% organic, 
made with Organic Aloe, Witch Hazel & Vitamins to Promote Hair wellbeing.
Click Here to Learn More and get yours before they are all gone.
We begin by creating a Zig Zag part. Start on the front of the hair and slowly cross from left to right creating a zig zag. Walk your way down until you complete the part. Brush the hair and create a ponytail. Using Little Roseberry Hair Jelly, squeeze a small amount on your hand and apply to the hair to prevent flyways. Brush and secure with an elastic. We decided to accessorize our models Hair with some cute Colorful Spaghettis that soon would be available for purchase at littleroseberry.com
Please leave your comments below if you would like to order your colorful spaghettis…
To allow the best placement of this spaghetti, applying a small amount of used Little Roseberry 90% organic hair jelly on a small strand of hair. Hold the spaghetti on the top of the strand of hair and start wrapping the hair around the spaghetti until you reach the end. We added two on each side of our models hair for dimension and playfulness.
Little Roseberry Hair Jelly is perfect to remove all flyways and polish any hairstyle on boys or girls. Just apply a small amount on your fingertips and go to town. The product is light hold, even daddies can use it and it is not greasy. It is made with Organic Alcohol but just a tiny tiny amount to not damage fine hair.
Thank you for tuning into another episode of easy Peasy hairspray Squeeze and please don't forget to Subscribe to our channel and share our video with your friends and family.Little Roseberry zig zag ponytail hair tutorial video!
You can follow us on instagram @littleroseberry
Enjoy a limited 10% discount on your first order at www.littleroseberry.com
www.Facebook.com/littleroseberrykids